Are you struggling with an Autoimmune condition? Do you know that you want to do something about your diet to improve your condition, but you aren't sure exactly what to do? I am very, very excited to share this amazing resource with you to get on the road to feeling better!
The Autoimmune Wellness Bundle contains 45 e-books (worth over $500) and 26 discount codes all for just $39! But hurry, it's only on sale until May 25th!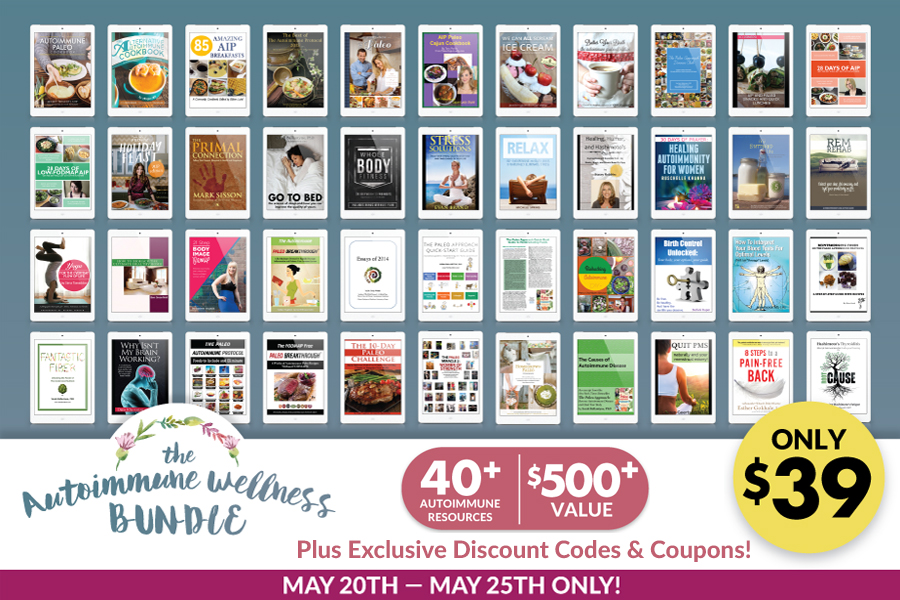 If you aren't familiar with e-book bundles, they typically include a variety of e-books as well as discount codes, all for a huge discount and sold for a limited time. Not all bundles are a good deal and I only support those few that provide a large variety of the best-quality resources for a truly amazing deal–and the Autoimmune Wellness Bundle definitely delivers!
This is the very first bundle to focus on exclusively autoimmune protocol-friendly resources! And it of them! Yes, every single AIP e-book ever created–including cookbooks, meal plans, andguides–are included in this bundle! Even better,this bundle is full of lifestyle guides to help you tackle all the other stuff too, like stress management, sleep, body image, and movement. Need help troubleshooting the autoimmune protocol? Then you'll love the collection of included e-books that takes you beyond the basics to help you hone in on root issues and regain your health. Dr. Sarah Ballantyne, autoimmune expert and author of The Paleo Approach has personally vetted every single resource included in this bundle. The Autoimmune Wellness Bundle is quite simply the best AIP resourceon the planet! And it's only available until Monday! Check out all the details here.
[Read more…]