Poor Small Business Saturday. It follows right behind Black Friday, you know, the day that gets all the attention and press. And, little cousin Cyber Monday is right around the corner, ready to capture all your dollars as you shop online for those great deals.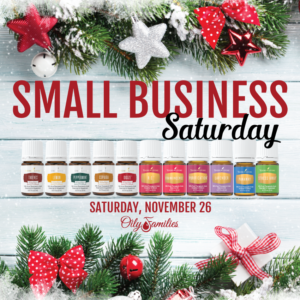 As you recover from Black Friday and prepare for Cyber Monday I want to present an opportunity to you that you may not have considered before. We here at Rooted Blessings are passionate about Young Living Essential Oils and have been talking about them for years. We use them (and many other Young Living products) on a daily basis and have seen and felt their effectiveness.
Beyond the actual products, we are small business owners. I remember the first time I heard of Young Living. I was working full time for a non-profit organization and finishing up my Masters' Degree. I didn't have time to help my wife with the business but I trusted her and told her to have fun basically. Not the most supportive response! Anyway, fast forward 4 years and I am now at home full time helping run our small business.
In those 4 years, we have grown our Young Living business through helping thousands of families. While I was skeptical at first, I have seen Young Living products support healthy body functions. From immune support to cardiovascular support, Young Living products have improved our quality of life.
Starting and running a Young Living business is not easy but it is rewarding. How many other businesses allow you to talk about products you love while building lasting and powerful relationships? It is not about selling products or being a master salesperson. The start-up costs are low and we provide tons of support and help to anyone who joins our team. And guess what? This is a business you can operate on your time schedule and from anywhere! My wife worked on her business at night after the kids went to bed and on the weekends when I was home from work. Now, we can work anywhere and anytime we want! How cool is that!
Are you ready to take the plunge? If so, we are offering a special Small Business Saturday deal for you. If you sign up with Young Living today, we will cover your tax and shipping! We will also send you a oil storage case as well as reference materials to help you get started.
Click HERE if you are ready to enroll with a Premium Starter Kit.
It is not some 'get rich quick' scheme, we have been working hard for over 4 years to be in the position we are in today. We simply wanted to share the opportunity with you because of how these products have changed the lives of our family. We want you to have the same experience and are ready to help you achieve those health and business goals.
Click HERE if you still have more questions about Young Living and the Premium Starter Kit.