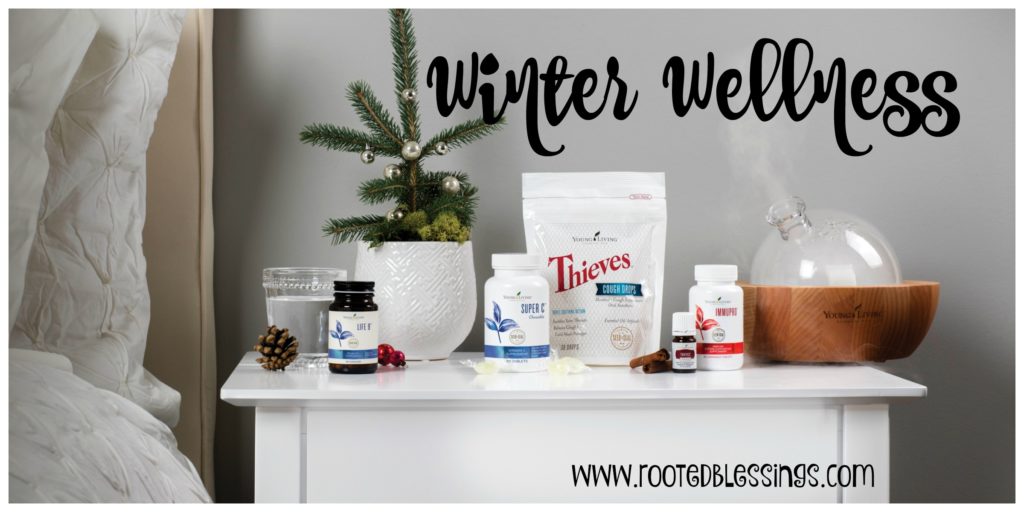 Winter is fast approaching and we all know what that means! The sniffles, the coughs, and all the other fun stuff that seemingly comes with the colder weather. In order to stay healthy, our house stays stocked with Young Living products and they provide a tremendous boost to our overall health, especially during the upcoming season.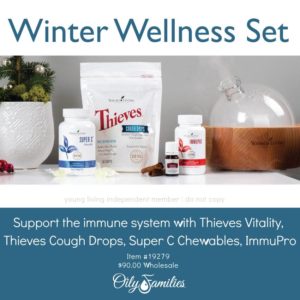 This Winter Wellness Set is the perfect addition to your home to help support you and your family's healthy immune system. Each of the products contained in the set are listed below along with descriptions taken directly from the Young Living website.
Thieves Vitality – With Thieves® Vitality™ you'll have a quick and easy way to balance your busy life and your wellness. With Young Living's Thieves Vitality essential oil you can support overall wellness and a healthy immune system with just a few drops. Use the sweet, spicy flavor of Thieves Vitality as an addition to your daily wellness regimen. Its constituent oils such as Clove Vitality, Lemon Vitality, and Cinnamon Vitality give a comforting seasoning to warm food and drinks.
Thieves Cough Drops – The power of Thieves® and menthol in a cough drop! The triple-action formula of Thieves® Cough Drops offers comfort by relieving coughs, soothing sore throats, and cooling nasal passages. Minty, spicy, and sweet without processed sugar, dyes, artificial flavors, or preservatives, these cough drops are made with naturally derived ingredients, including Young Living's pure, therapeutic-grade essential oils and menthol from peppermint.
Super C Chewables – Super C combines pure Orange essential oil with a proprietary blend of camu camu, acerola, cherry, and rose hips fruit powder to create a powerful immune-supporting supplement. Together, these premium ingredients deliver desirable polyphenols, carotenoids, and optimal amounts of vitamin C in a convenient chewable tablet.
ImmuPro – ImmuPro™ has been specially formulated to provide exceptional immune system support when combined with a healthy lifestyle and adequate sleep to support the body's needs.
This power-packed formula combines naturally-derived immune-supporting Ningxia wolfberry polysaccharides with a unique blend of reishi, maitake, and agaricus blazei mushroom powders to deliver powerful antioxidant activity to help reduce the damaging effects of oxidative stress from free radicals.
Using healthy alternatives to support the immune system is important to many of us. I encourage you to check out these products and make them a part of your winter wellness routine. You will not be disappointed!
If you are already a Young Living member, sign in to your account today and place a quick order today to snag this deal!
If you are new to Young Living and want more information, please visit our page here. We'd be thrilled to have you join us on this journey!