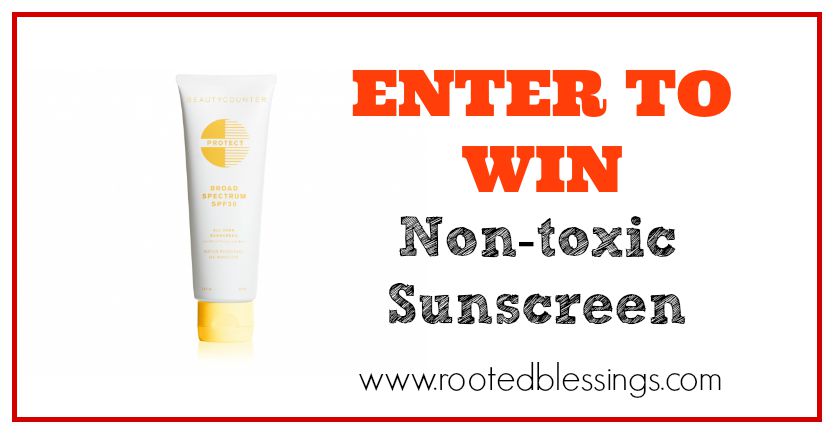 A sunburn is NOT something I want to mess with when it comes to my children.  Not only do I want them to avoid burning, I don't believe that most sunscreens on the market are the answer to good health.  Many of them contain toxic chemicals that I don't want to massage into my children's (or my own) skin.
The majority of sunscreens contain harmful and toxic chemical fillers and these are toxic substances you do not want to mess with.  The biggest issue with most of the fillers is that they are known hormone disrupters.  I don't want to put that on the largest organ of my body, do you?  That is why I'm always on the lookout for a wonderful non-toxic sunscreen that actually works.  
Here are a few common sunscreen ingredients that you definitely want to stay away from:
Oxybenzone: Acts like estrogen in the body. Alters sperm production in animals. Associated with Endometriosis in women.
Octinoxate: Hormone-like activity, reproductive system, thyroid and behavior alternations in animal studies.
Homosalate: Disrupts estrogen, androgen and progesterone.
If you visit my home, you will see that I do my very best to stay away from every toxic chemical that I can.  We eat as much organic food as possible and purchase meat from local farmers.  And, I only use non-toxic cleaners such as this one (its my favorite because it has about a million uses).
It is no different when it comes to sunscreen.  Only non-toxic for me please.  And, enough of these non-toxic sunscreens that don't do the job.  I want a toxic sunscreen that really works!
And, I'm always on the lookout for products that I can trust to use with my family.  BeautyCounter has created some fantastic beauty products that have 0-2 rating from the Environmental Working group. They are safe and toxin free.  This company is totally committed to healthy, non-toxic makeup and skincare products.  I can stand behind that!
Beauty Counter's Protect All Over Sunscreen is rated 1 by the EWG.  You'll find that it is formulated with nano zinc oxide.  It is a very lightweight sunscreen and it is water proof! (Quadruple bonus!) You can find it on the list of 10 chemical-free sunscreens we love from Allure.
This product sells out extremely quickly so I would snag it while they have it. It is so hard to find a high quality chemical free sunscreen.  
Order HERE to take advantage of some of the most amazing sunscreen you will find on the market.  Beautycounter also has $5 flat rate shipping on all products so you don't have to worry about high shipping costs if you are ready to stock up on non-toxic makeup and sunscreen.
Before we get into the giveaway I have a SPECIAL GIFT!
Welcome Gift (through July 28th)!
Before we jump into the giveaway, I am offering a special gift this week! If you place an order of $100 or more with Beautycounter using my link, I will send you this Gray and White Chevron 10″ Pouch.
(Note: the below image is black, but I have gray and white ones with pink trim.)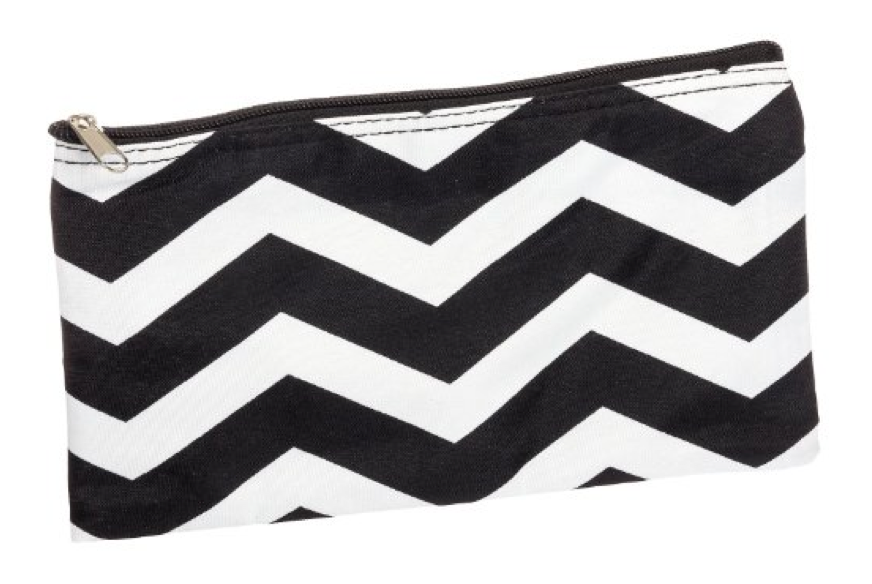 How to Receive the Welcome Gift!
I am so excited about a chance to give away Protect All Over Sunscreen to one Rooted Blessings reader!
To Enter:
1. Visit Beauty Counter through my link HERE.
2.  Leave a comment below and tell me which BeautyCounter product you are most excited to try (besides the awesome sunscreen).
Contest Rules: 
Contest open to US residents only
Contest ends on July 28th at 11:59 EST.
The Winner will have 48 hours to respond.  If the winner doesn't respond in 48 hours a new winner will be selected.
Will you help me spread the word?
Click HERE to pin this post!