I am always on the lookout for great healing cookbooks.
The Autoimmune Paleo Cookbook by Mickey Trescott is no exception.  Available for purchase in both hardcover and ebook, this cookbook is a must have for anyone who has been diagnosed with an autoimmune condition.  
If you are not familiar with the Autoimmune Paleo Protocol it removes grains, beans, legumes, and dairy from the diet much like the typical Paleo diet.  However, it also removes eggs, nuts, seeds, and nightshades (such as tomatoes and peppers), food chemicals, and over-the-counter medications in order to allow the body to heal itself.  The only meats and foods permitted on this diet are very high quality such as pastured meats wild-caught fish, organ meats, bone broths, fermented foods and an array of preferably organic and/or homegrown fruits and vegetables.
Once these foods are removed, the body is allowed to heal "leaky gut" or dysbioisis.  These gut problems are found in those who have an autoimmune condition.  Once many of these foods are removed then the body can radically heal and symptoms are virtually eliminated or significantly decreased.
My favorite cookbooks include step-by-step instructions on how to properly work a healing protocol into your everyday life. The Autoimmune Paleo protocol isn't just a diet, but a lifestyle that is needed for individual who suffer from an Autoimmune condition to heal.  While modern medicine continues to band-aid individuals who struggle with these conditions it does not offer them healing, only symptom management, and it doesn't even do a good job at that.
The Autoimmune Paleo cookbook does lay a fantastic foundation for those who are looking to offer their body a complete gut healing protocol to have a happy tummy and a happy body and still enjoy the food that they eat on an everyday basis.
The Autoimmune Paleo Cookbook contains:
Foods to Avoid in the protocol
Foods to Include
Detailed Explanation of Nutrient Dense Foods
How to Stock Your Kitchen/Pantry Items
Meal Plans
Shopping Lists
…and pages and pages of gorgeous photos and tasty recipes.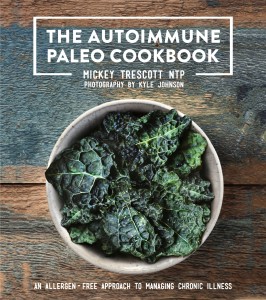 The Autoimmune Paleo Cookbook will set you up for success when using nutrient-dense foods in order to feel better and heal your body from an autoimmune condition.
Click on any of the links above to purchase The Autoimmune Paleo Cookbook which is available from Amazon.
Try this yummy recipe below for Radish and Jicama Tabbouli below in order to take one of Micky's recipes for a little test drive.  I know you won't be disappointed.
Enjoy!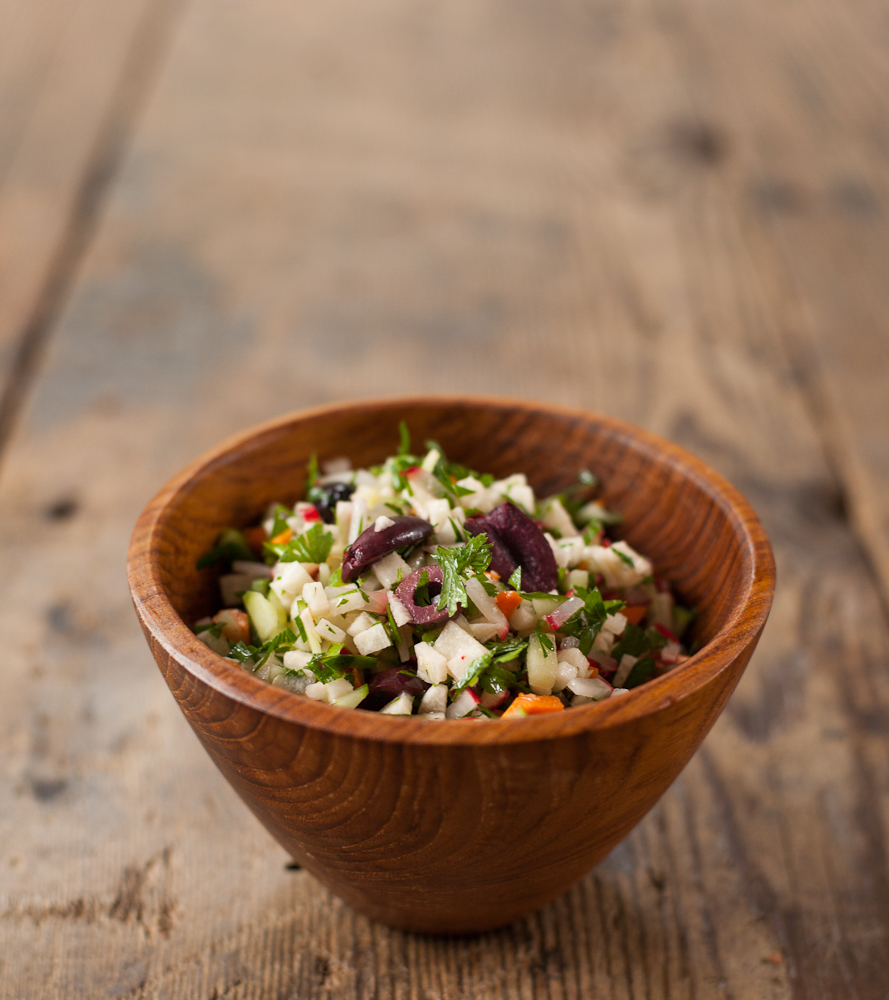 Radish and Jicama Tabbouli
Time: 15 minutes  Servings: 4
Ingredients:
1 bunch parsley, chopped
1 bunch radishes, finely chopped
1/2 pound jicama (about 1/2 small), peeled and finely chopped
2 carrots, finely chopped
1 cucumber, finely chopped
8 kalamata olives, minced
1 tablespoon minced fresh mint
1/4 cup extra-virgin olive oil
2 tablespoons apple cider vinegar
1/2 lemon, juiced (about 1 tablesppoon)
Sea Salt to taste
Directions:
1. Combine the parsley, radishes, jicama, carrots, cucumber, olives, and mint in a large bowl.
2. In a small bowl whisk the olive oil, vinegar, lemon juice and salt.
3. Toss the dressing with salad and serve.
Republished with permission from The Autoimmune Paleo Cookbook by Mickey Trescott