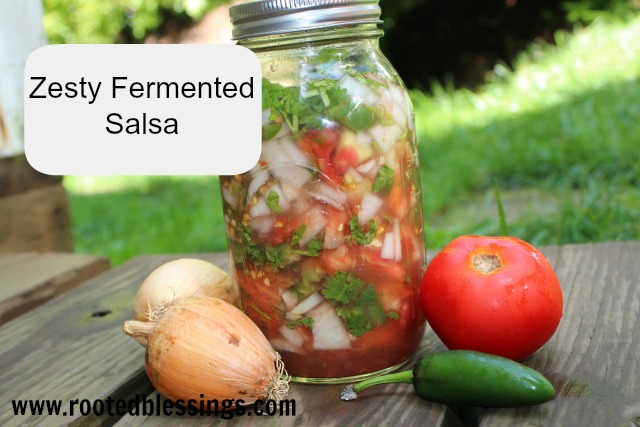 Food allergies, asthma, ADHD, seasonal allergies, perpetual nose drips, fatigue, chronic diarrhea, autoimmune disease, chronic constipation, and many other health struggles can often begin as an imbalance of gut flora.  It can be helpful to take a good heavy-duty probiotic, but much of our culture has lost the ability to ferment foods in order to naturally restore gut health with natures own probiotic.
It can be helpful to include a tablespoon or two of fermented foods with each meal if you aren't sensitive to the food in order to restore the health of your gut.  Fermented foods are fairly easy to make and can add lots of flavor and zest to your meals each day.  Plus, fermented foods are a way to preserve summer's incredible bounty.
This tasty and zesty fermented salsa recipe can add a kick to any Mexican meal or can be tasty to eat with organic tortilla chips.   It may add the perfect flavorful kick to the meal that you have been looking for.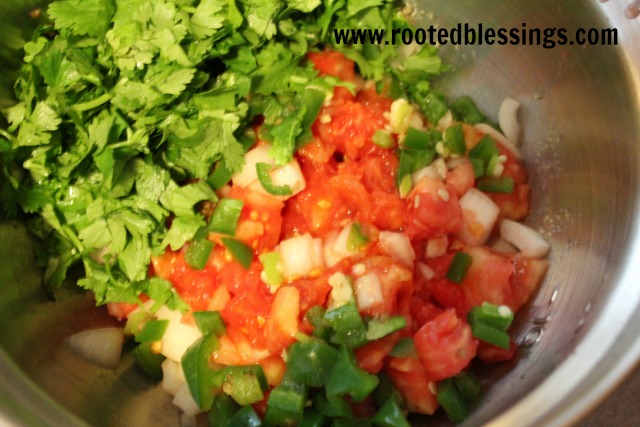 Zesty Fermented Salsa
Adapted from Nourishing Traditions
Ingredients:
4 medium tomatoes
1 medium onion
2 jalapeno peppers
1 bunch of cilantro
Juice of 2 lemons
1 tablespoon unrefined Sea Salt
4 tablespoons whey
1/4 cup filtered water
Directions:
Chop up all your veggies, mix and place in quart size wide mouth mason jar. Press down with a wooden pounder. Add more water if necessary to cover the vegetables.  It is important that the vegetables sit at least one inch below the mouth of the jar.  Cover tightly and leave at room temperature for 4 -6 days.  Taste the veggies as the days progress and put them in cold storage once it is a taste to your liking.  Veggies continue to ferment in the fridge, but do so much more slowly.  So, the taste will change as it keeps in the fridge.
As with any food or fermented recipe don't consume anything that has an unpleasant smell or taste.
This post is linked to Fight Back Friday and Small Footprint Friday.