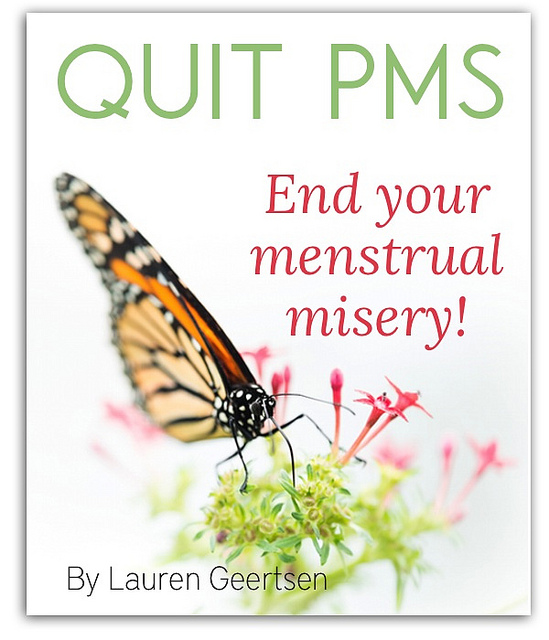 Do you severe cramping or get mood swings during your monthly cycle?
I have to be honest, I haven't had a monthly period in 26 months.  I've been either nursing or pregnant for that long.  But, my monthly cycle came along this time and I was C-R-A-B-B-Y.  I was crabby, disgusted, and basically mad at the world.  Since that is not my typical demeanor I had nothing else to relate it to besides "that time" of the month. 
Even if our symptoms are mild like I considered mine, perhaps we have more that we haven't even connected with our monthly cycle.  Then, there are those of us who don't have mild symptoms at all.  They are horrid and terrible feeling symptoms.
Do you have symptoms like:
abdominal weight gain
allergies like asthma, rashes and hives
bloating
cold hands and feet
cramps
decreased libido
fatigue
fibrosystic breasts
hair loss
irritability
infertility
memory loss
mood swings, especially around your period
Did you know? It doesn't have to be this way.
You can find relief.  In the book "Quit PMS", Lauren of Empowered Sustenance gives you the tools that you need in order to toss those discomforts for good!
My favorite chapter of "Quit PMS" is about the foods that are most helpful in help end your vicious PMS cycle.  There is no greater information than the medicinal foods you can eat more of right?
1. Dairy
If you think you are dairy sensitive or intolerant you have to read this chapter.    This book gives valuable information about how dairy can be helpful for your hormones, where to get the best dairy, and why it is the best.  Take a sneak peek on some of the great information that you will find:
"First, the calcium content of milk plays an important role in metabolic hormone
homeostasis. When calcium intake is too low, Parathyroid Hormone (PTH) is
released to free calcium from bones and raise blood calcium levels. PTH reduces
the cellular respiration of cells… in other words, it lowers the cell's metabolism.
PTH is also inflammatory. Adequate calcium from dairy, when paired with
adequate magnesium intake, is an anti-stress factor that supports a healthy
metabolism. (Quit PMS, Pg 38)
2. Salt
Salt does an array of amazing things in the body.  But, I wouldn't go for the unrefined version.  Quit PMS share all the great reasons that you need to add salt to your diet to kick your PMS blues.
"One of the things that happen when there isn't enough sodium in the
diet is that more aldosterone is synthesized. Aldosterone causes less sodium to
be lost in the urine and sweat, but it achieves that at the expense of the
increased loss of potassium, magnesium, and probably calcium… Magnesium
deficiency is extremely common, but a little extra salt in the diet makes it easier
to retain the magnesium in our foods." Ray Peat Ph.D
3. Eggs
Eggs are a staple in our diet.  I also recommend for my clients that I Doula for after they give birth to increase the fat and eggs in their diet to help balance their hormones.  These wonderful little nuggets of health can be amazing for a hormone healing journey.
But, why are eggs so good for you?  And, what is the best way to eat them?
You will find the answers to your questions about the above foods and more in "Quit PMS."  Trust me, you will not be disappointed.
That is not all you will learn when it comes to great foods to eat that will nourish your body and end your PMS.  This book is packed with all the great information you have been looking for in order to find your way to true, whole health and healing and not be overcome by discomfort of symptoms from a monthly cycle.
You will learn:
About Estrogen dominance and why this is common hormonal imbalance when it comes to PMS.  You will learn what, why and how this imbalance causes your symptoms and exactly what it is doing to your body.
About all the macro-nutrients and how to use them to your advantage when it comes to balancing your hormones.
 Seven dietary principles covered in detail that will save your hormones and your life – for good.
Good foods to eat.  Lauren emphasizes that "food is medicine" and what you eat really will take a tool on your health.  Although this book isn't a restrictive diet she does cover what foods are really going to help.
Bad foods to stay away from.  These foods will really make you feel horrible while you are on your period.
Gentle, safe, and effective detox.  It is important that your body isn't overloaded with toxins that put a burden on your body, it is important to detox in order to keep your body working at optimum level.
What stress does to you and how to reduce it.
Supplements that can specifically help and heal hormonal imbalances
Why the pill and hormone therapy may not be a good idea.  What are the risks and dangers associated with taking these types of prescription medications?
Learn natural homemade skin solutions and regimens that offer acne-free and beautiful results.
Get the low down on better period products.  Are tampons the best options or are there other great options?
Don't let PMS rule your life.
*Bonus: Quit PMS also includes great recipes to jump-start the healing process.
Quit PMS is usually retails $24.99, but if you act fast you can get it for less than $1 in Village Green's 'Fall into Health' Bundle sale.  Now through Sunday, get this great book, 46 others, 15 podcasts, 3 online video classes, 2 meal plans, 2 magazines and 21 discount coupons for only $39!