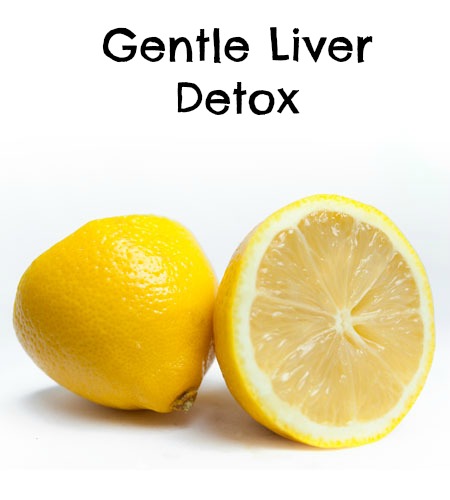 Due to our toxic environment your liver is very likely be one of the the most overburdened organs in your body.  If you are an adult, your liver most likely weighs about 3lbs and is the second largest organ in your body.    The liver is responsible for detoxing and filtering harmful substances in the body as well as an array of other functions.
Functions like:
Metabolizing Carbohydrates  – Your liver helps to maintain blood sugar balance by converting glucose to glycogen when blood sugar is high for storage for later.  It also aids in converting glycogen to glucose in order to release it into the blood stream for energy when blood sugar is low.
Metabolizing of Lipids
Metabolizing Proteins
Processing Hormones and drugs
Excretes Bilirubin
Activates Vitamin D
Stores Vitamins and Minerals – Your liver stores vitamins A,D,E & K as well as copper and iron
But, don't run out and get on any sort of liver detox diet just yet.  The suggestions following are very gentle solutions to support the overall function and cleansing of the liver.  A whole body focused detox diet can be a very important part of proper function to maintain whole body health, but it should not be done without a healthy digestive system,  properly balanced blood sugar, fatty acid sufficiency, proper hydration and sufficient minerals.
Why? 
Without first balancing these very important systems of the body detoxing can dump toxins into other areas of the body that can not properly detox itself.  This can wreak havoc on already challenged body systems and cause further harm.
For a healthy body, it is important to balance these systems to eventually detox yearly to purge your body of harmful toxins as well as eliminate toxins from your environment, diet, and beauty products as much as possible.  Balancing can done with the support of a qualified Nutritional Therapy Practitioner or holistic doctor and the knowledge of your doctor.
However, many foods and substances support your liver to do what it is designed to do, detox naturally and gently.  Integrating some simple, intentional, detoxing foods into your real food diet can be helpful to allow your body to heal itself.
Drink Warm Lemon Water in the Morning
Squeeze a wedge of lemon in warm water to break your nightly fast each morning.  This morning ritual can help cleanse your liver and aid in healthy function for the day.  I do recommend using organic lemons if using a wedge  and drinking about a coffee mug size of water with a squeeze of fresh organic lemon wedge. Make this part of your daily routine.
Milk Thistle 1-2 Times Daily
Milk thistle is an amazing herb that is known to boost liver metabolism.  Although I haven't given my children any sort of acetaminophen for years, I did always give it with Milk Thistle to protect liver function.  It is most beneficial when taken in a tincture where medicinal properties of an herb are extracted by a glycerin or alcohol solution. You can also drink Milk Thistle safely in an herbal tea.
And, as a good rule of thumb if you have any diseases of the liver always be monitored closely by a qualified health professional, the liver is an amazing organ that is able to regenerate itself liver disease is nothing to be taken lightly.
Sources:
Jacobs, BP, et al.  Milk thistle for the treatment of liver disease: a systematic review and meta-analysis, (2002) Pub Med. Accessed August 23, 2013.
Tortora, G. and Derrickson, B. Introduction to the Human Body: The Essentials of Anatomy . 9th ed. (2011)  Wiley.