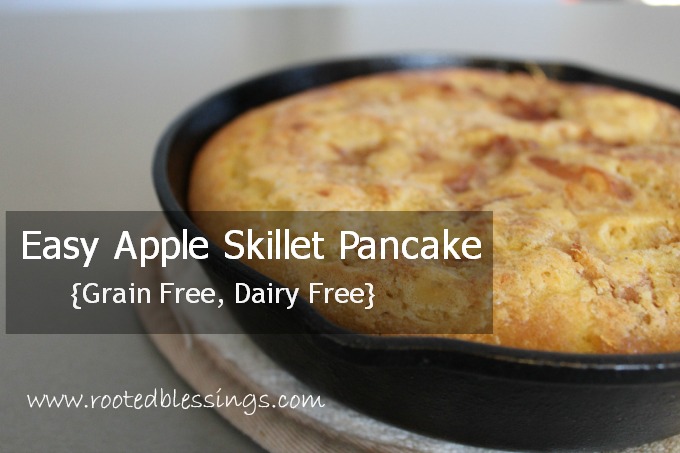 Is your breakfast boring?
Before I learned how important it was to eat a breakfast that had a great combination of protein, fat, and carbs my children would want to eat peanut butter toast every morning for breakfast. For a long time I gave into this ritual because it seemed so easy. But, I don't believe that it was the most nutritious thing for them to eat every morning. Since then, I have worked hard to provide my family with easy, nutritious, breakfasts with balanced macro-nutrient combinations, like this Easy Apple Skillet Pancake creation. If you are eating macro-nutrient combinations are adequate for your genetic make-up, then you are setting yourself up for some great blood sugar balance for the day.
This morning I whipped up this Easy Apple Skillet Pancake. It was almost too easy to put together and my children were begging for more. Yum! This skillet creation can easily be made dairy free and grain free and can be simply whipped up, thrown into a cast iron skillet and popped in the oven. I'm all about easy breakfasts, lunches, and err… dinners. Did I mention that I'm a work-at-home mom of three little ones? If it is easy peasy, and nutritious then I can be all about it.
Try my Easy Apple Skillet Pancake and see if your kids are begging for more.
Easy Apple Skillet Pancake
Ingredients:
6 pastured eggs
1 cup of milk (I used raw milk, but you can use almond or coconut milk for a dairy free version)
3 Tablespoons of butter melted (or Coconut oil for dairy free)
3 Tablespoons of honey
1/4 cup coconut flour (I like this brand.)
2 tsp vanilla (I like to use homemade)
1/2 tsp baking soda
Shake of nutmeg
1.5 cups of home canned or pre-made apple pie filling (I use this recipe)
1 T butter or coconut oil
Directions:
1. Preheat your oven to 425 degrees F.
2. In a small bowl whisk eggs, butter or coconut oil, honey, vanilla, and milk.
3. In another bowl whisk together dry ingredients coconut flour, baking soda and nutmeg. And, combine with wet ingredients.
4. Heat cast iron skillet in the oven with 1 T of oil until melted.
5. Carefully remove skillet from oven and pour batter into skillet. Then spoon apple pie filling over batter, distribute throughout.
6. Bake for 25 minutes. Remove from oven, cool slightly and serve.
Enjoy!
This post is linked to The Homesteaders Blog Hop.
Like this post? Please +1 this post!