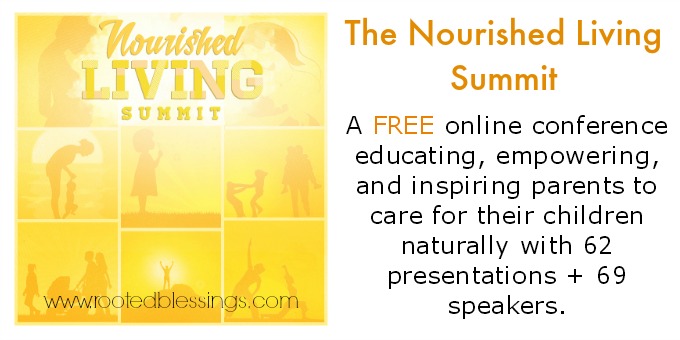 I am in multiple parenting forums and I work with moms on a regular basis as a Nutritional Therapy Practitioner and a childbirth Doula. I KNOW the questions that moms are asking, I have blogged about a few, and I have asked many of them myself.   The Nourished Living Summit has so many of the answers you have been looking for.  These experts listed are qualified professionals that can help you with your parenting struggles, help you to be a better parent, and get the information you need for a healthy family.
Plus, I am one of the speakers!  Sign up for The Nourished Living Summit and hear my talk on Pregnancy and Breastfeeding that will go live on March 31st.  A little disclaimer: I had a little frog in my throat when I recorded.  I haven't listened to the recording yet. But, I am so excited to be part of this summit!  You must register for instant access here.
Announcing a FREE online summit that you simple CANNOT miss out on: The Nourished Living Summit. The reason this summit stands out above previous online summits is because it is FREE right now, for 2 WHOLE WEEKS! You will not have to worry about missing one amazing topic! On that note, here is the ENTIRE line-up….
The Nourished Living Summit brings together 69 natural health, wellness, and parenting professionals who are dedicated to helping parents care for their family naturally. These experts know that parenting is not easy and making sure your children are healthy and nourished can be overwhelming.   This information is fantastic to keep on hand as your grow as a parent, plan on being a parent and may be expanding your family.
It won't be like those other Summits, the ones were you have 24 hours to listen to 10 presentations. The Nourished Living Summit wants to give you as much information as possible. You will have plenty of time to take in all the speakers that are listed.  The Nourished Living Summit is showcasing 62 presentations divided into 8 thematic tracks including:
Pre-Conception, Pregnancy, and Birth
Breastfeeding
Health and Development for Children Ages 0-18
Natural Health and Wellness for the Whole Family
Care and Nurturing For Mothers
Education for Natural Minded Parents
Beginning March 24th, you will have 48 hours to listen to 3-5 presentations. Each track is divided over the course of two 48 hour periods. Presentations will stream live Monday-Saturday with Sundays off. The Summit ends on April 29th.
Make sure you register to take advantage of this completely FREE online event that will help equip you to have a happy healthy vibrant family!
Don't forget the event is completely FREE and you have several days to get lots of information from all the speakers! Click here to go to the Nourished Living Summit website!
Click here to pin this image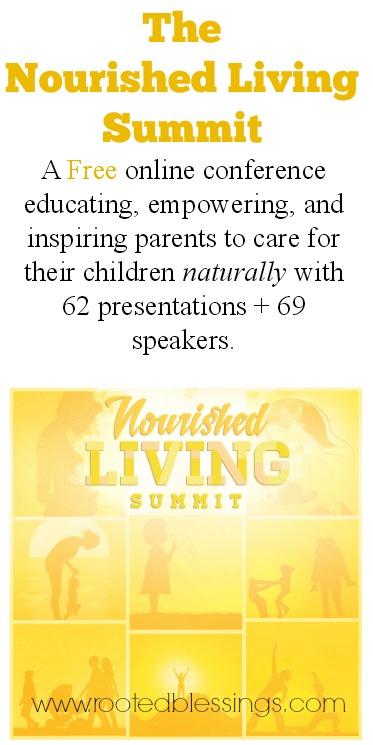 Excited about the FREE Summit? +1 this post!