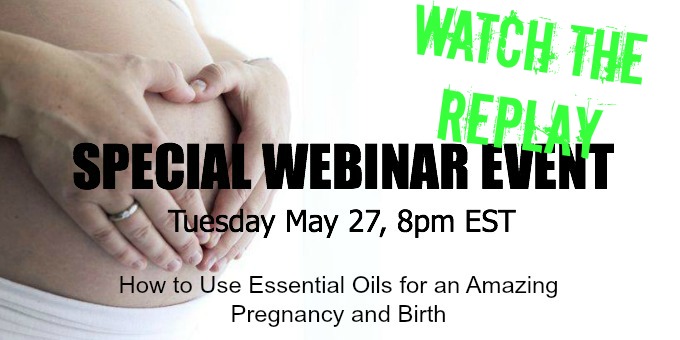 So, you are expecting?  Congratulations!!!!
This live event has passed, BUT you can watch the replay on the link below.  Check it out!
Ever since I started using essential oils, several months ago with the clients that I Doula, every single one has been amazed at the healing powers of essential oils.   It hasn't taken much besides allow them to use my oils to make them believers.  And, each one of those clients are so thankful that I introduced them to this wonderful world of natural healing for pregnancy and childbirth discomforts without the use of over the counter or prescription drugs. 
An essential oil is an aromatic, highly potent botanical extract that is found in shrubs, flowers, trees, roots and seeds.  Properly distilled essential oils are extracted by low heat with the exception of citrus oils which are cold pressed.
Essential oils possess many healing, calming, and balancing properties that can make pregnancy and childbirth an amazing experience.  If you have a headache  or stuffiness and you want to keep your baby safe and shy away from conventional drugs, essential oils can aid to balance the body in order to keep your little one safe and help your body to properly heal.
I rarely leave home without mine, and pregnant or not once you get the opportunity to understand how to use essential oils for your pregnancy and birth, I don't think that you will want to leave home without them either.
On May 27th at 8pm, I am offering a very special FREE webinar event where I will share about how to use essential oils for pregnancy and childbirth.   If you are expecting you will not want to miss out on this event!
Attendees will learn: 
What essential oils will do for pregnancy and birth
Why pure essential oils are so important
essential oils you should not use and/or use with caution during pregnancy
essential oils for nausea
essential oils for high blood pressure
essential oils to help with everyday discomforts
oils to use for gestational diabetes
oils for back pain
oils for sleep
what oils to use during childbirth
Plus, there will be door prizes for those who participate!
I would love for you to join me on this very educational FREE webinar on how to effectively use essential oils in pregnancy and childbirth.  Hopefully, you have already clicked to register and reserve your seat.  Space is limited and seats will go fast!
This is one of my very favorite things to share about so I hope to see you there!