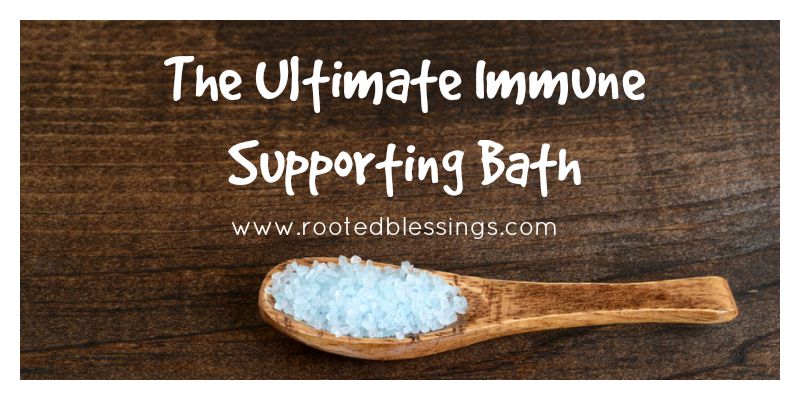 Thieves Essential Oil blend is FANTASTIC for Immune Support.  Everyone tries to replicate and imitate the Thieves blend, but those of us who have used other brands and later start to use Young Living know that no other brand achieves the desired results that the original Thieves Oil blend does.
During the winter months everyone is looking to maintain a healthy immune system.  Apply and diffusing Thieves is one of my favorite ways to help maintain good health.
This immune supporting bath is great for regular winter time bathing and supporting the immune system when those winter months can try to beat it down.  I love to use a few drops in epsom salt for the kids too.  They love it!
Immune Support Bath
1/2 cup Epsom Salt
5-6 drops of Thieves Essential Oil – (I recommend this brand)
1st pour your epsom salt into the tub and add the Thieves oil right on top of the epsom salt.  This will disperse it throughout the waiter.
Epsom Salt  is a great mild detoxifier. And, Thieves oil is a very helpful immune system stimulant.
I would have gotten started with Young Living long before I did if I had known how to get Thieves Essential oil!  I would be doing you a major disservice if you didn't know how to get it.  Thieves essential oils comes in a Young Living Premium Starter Kit and it also comes in a Thieves Premium Starter kit all with the amazing Thieves line.  You can get started with Young Living here.
I can whole heartedly promote Young Living because there are no strings attached to the membership at all.  If you have any questions please contact me.   I'd love to talk to you about how Young Living can change your life forever. 
Click HERE and pin this post.
This post has been shared at "Happy, Healthy, Green & Natural Party Hop"