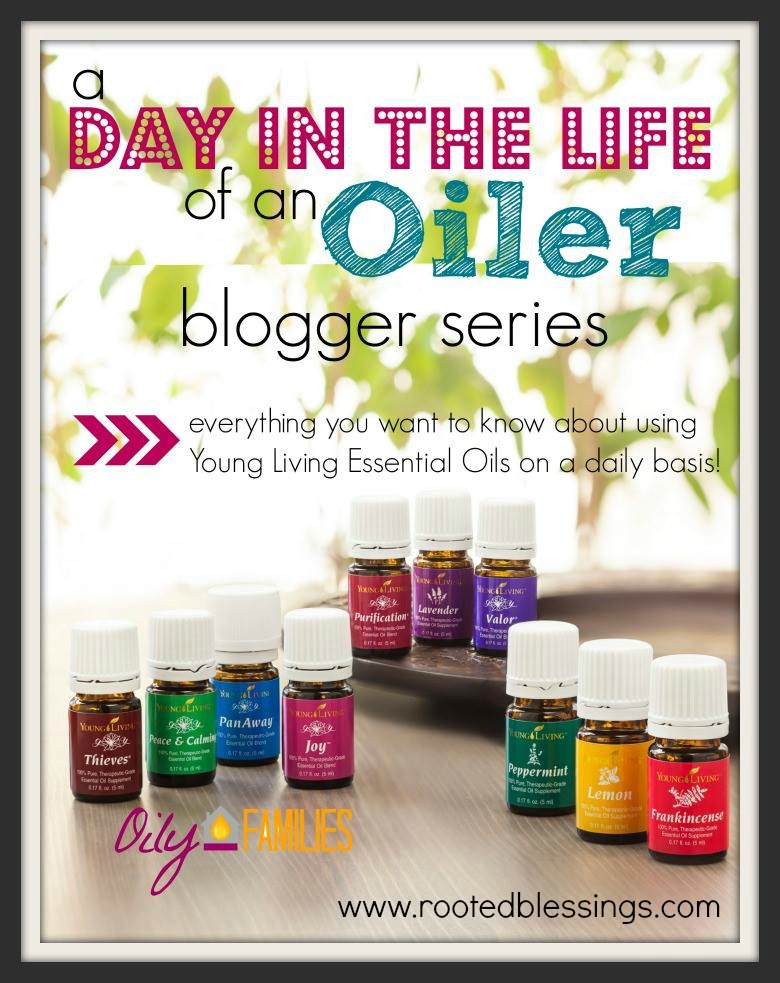 Welcome to a Rooted Blessings!  If you have stopped by from Going Granola Blog, a warm welcome to you!  I am so excited about being part of 'A Day in A Life of an Oiler Series.'  It gives me a wonderful chance to show you how I use essential oils on a daily basis.
I'm very excited to share with you why I love…er…am obsessed with Young Living Oils!  For those of your who don't know me yet, I am a Nutritional Therapy Practitioner, a Certified Childbirth Doula, a Family Herbalist, and an essential oil lover.  My first goal is always to use food as the greatest source of healing for the body, however there are so many other wonderful tools for healing support as well.  
Young Living Oils are one of my very favorite essential oil companies because I know that I can trust their quality and purity.  Since I work regularly with pregnant moms, children, and clients to help support the body for top notch functioning, I think it is important to use the highest quality of oils possible.  Young Living is the only brand I ever use.  Since, essential oils are a potent extract of the plant you want to make sure they are of 100% pure quality.
And, I've got to be honest, I also like the perk of sharing something I LOVE with friends and family and being able to earn free oils or a little income.  I have never had anyone be disappointed with being part of the Young Living family.
So without further ado… Let me share just a tiny few reasons that we love using our Young Living Essential Oils.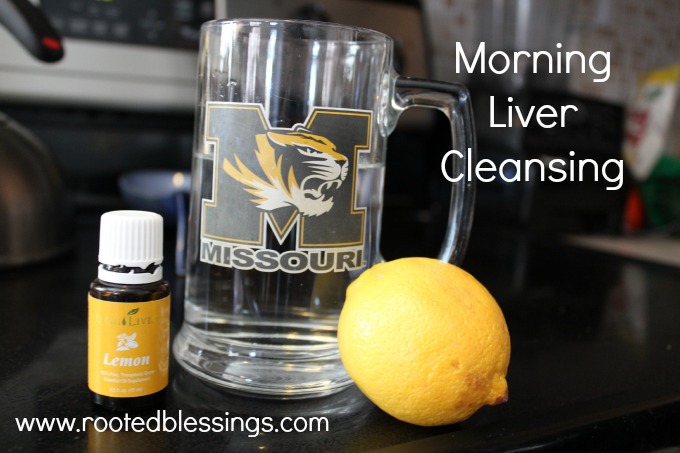 7:00 am – It is my goal to start waking up earlier in the morning, but my 1-year-old has been waking at night again.  So, my older two children usually rush in and wake me.  I get up and head to the kitchen to make breakfast for the littles.  Today, it is this Easy Apple Skillet Pancake.
7:15 am – While they are munching, I pick up my glass of water and add 1 drop of Lemon Essential Oil.  This is great to start the day with a little Liver support for my healthy liver. GO MIZZOU!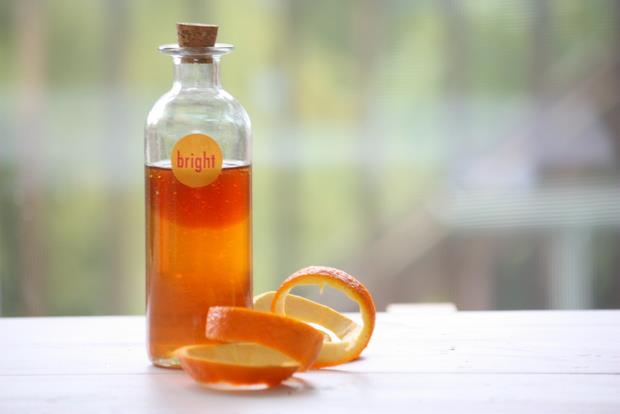 8:45 am – By 8:30 am they kids are hard at play, I've cleaned up the kitchen I'm about ready to jump into the shower.  (If I don't get engrossed in work via internet.)   I make my own Orange Honey shampoo with orange essential oil.  I love it!  I get the recipe from the DIY Organic Beauty Recipes (which has more than 50 fantastic recipes, many that use EOs). *Photo credit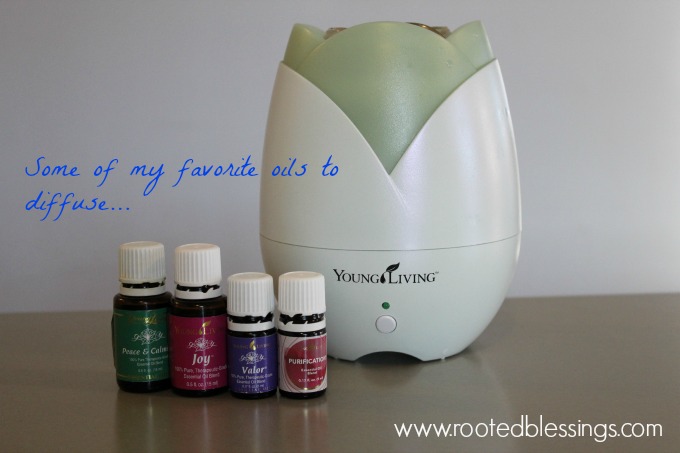 10:00 am – through much of the day.  I'm using my fantastic diffuser.  I just LOVE it!  I really enjoy diffusing oils depending on what is happening.  If the kids are whinny, Joy .  If they are acting crazy, Peace & Calming.  If I'm a little anxious and I need some extra relaxation, Valor or Purification.  (Can anyone say addict?)
And, psst, all these can be found in a Premium Starter Kit.
I'm typically diffusing while we are going about our daily activities.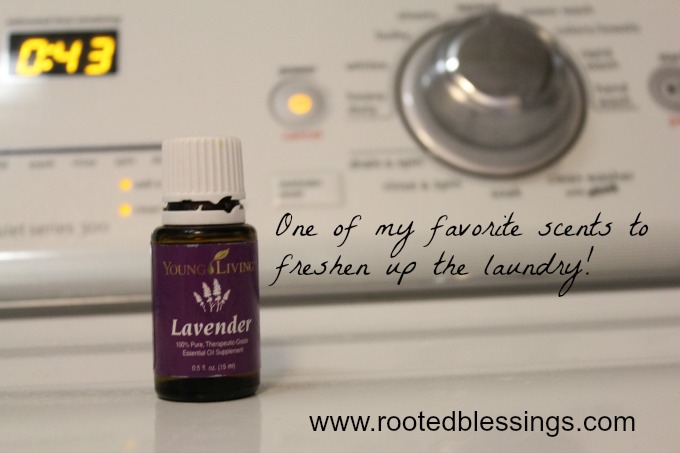 11:00 am – Time to pop a load of laundry into the washing machine.  I make my own powdered laundry detergent, so I always add a few drops of one my favorite EOs to the cycle.  Today, I'm adding Lavender.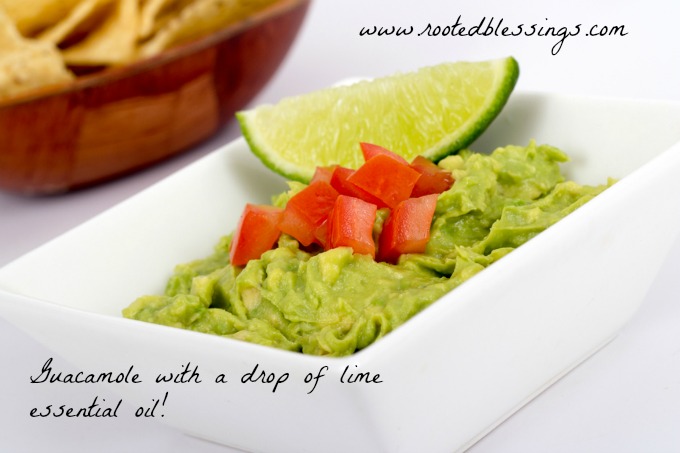 12:00 pm – Time to make lunch.  I really love cooking with my YLEOs too!  I'll often add a drop of Lime  Essential Oil to my Guacamole.  Yum!
1:00 pm – When lunch is over, I clean up the kitchen.  I spray down my counter tops with some Homemade Thieves Oil All-Purpose Cleaner or some Young Living made Thieves Oil Cleaner. Now, to put the littlest down for a nap.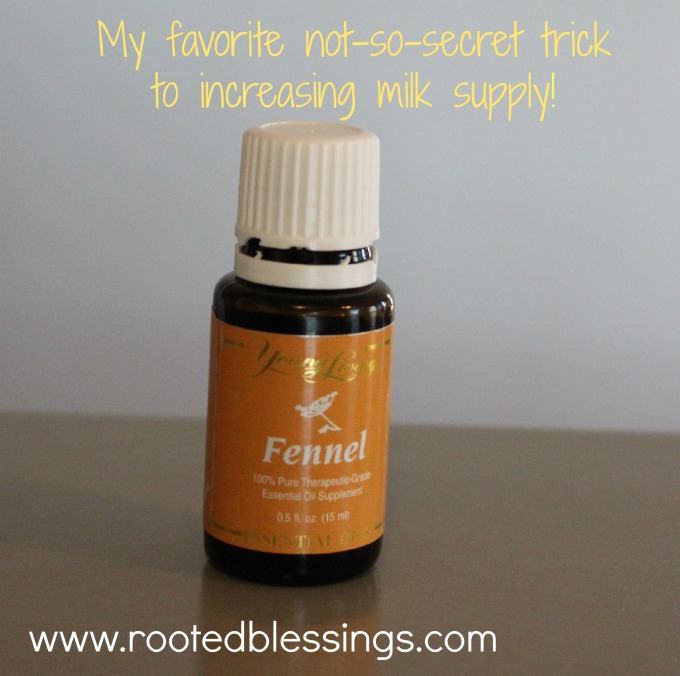 2:00 pm –  I want to maintain healthy milk supply when nursing my little.  So, I just pop a couple of drops of Fennel EO in a glass of water and suck it down.  It's amazing!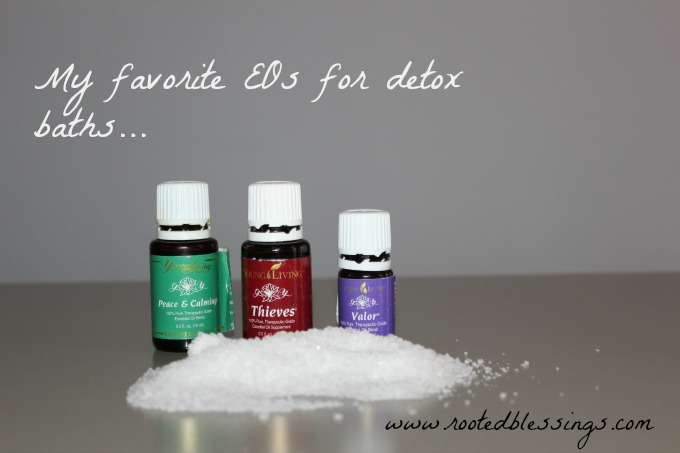 3:00 pm – Time to get my middle child into a relaxing bath.  She has some food allergies and we have been using some Nutritional Therapy to heal her gut. I put her in a bath with a few drops of Valor and a half a cup of Epsom Salt (for children) you can use up to 10 cups for adults. But, ease into it if you've never done any detox baths before.
My favorite EOs for detox baths are Peace & Calming and Valor to help relax or Thieves for an Immune Enhancing detox bath.
Wow!  We've had an oily day haven't we?
7:00 pm – The baby is having a little trouble going to sleep so I just slip some Peace & Calming in the diffuser and place it in her room.   Let me just say that THIS has never failed me yet to help my babies calm down and get to sleep.
I also oil up my middle child's tummy with DiGize after I give her a probiotic and  activated charcoal so we can take advantage of sleeping to get in some good tummy healing and a restful sleep.
My oldest doesn't want to be left out, so he gets rubbed down with some coconut oil magnesium lotion that also contains Lavender, this encourages a very peaceful sleep as well.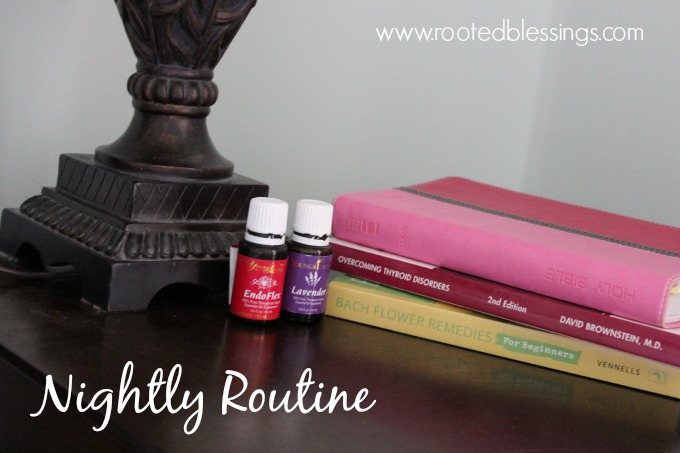 9:00 pm – I'm using Nutritional Therapy to support hubby's healthy thyroid.  Along with his Nutritional Therapy protocol I rub Endoflex to support proper function at night.  I also leave a drop or two of Lavender on my pillow at night.  Mmm…I love Lavender.
Thanks so much for joining me today!  I hope that you have seen how much these fantastic oils can do for you and your family.
So, are you ready to take the oily plunge?? If you want to know more about Young Living Oils, read here or contact the person that introduced you to The Day in a Life of an Oiler Series.  I may have already answered the questions you have on that informational page.  If not, you are welcome to join my Facebook group for those who have never used essential oils before and want to find out how to get started.
Make sure you stop by our fantastic giveaway where we are giving away a Thieves Oil Essential Rewards Kit!
Stop by Joyful Adorations today to read more from A Day in the Life of an Oiler or stop by one (or all) of the blogs below!
Monday:
Tuesday:
Wednesday:
Thursday:
Friday:
*These statements have not been evaluated by the FDA. This product is not intended to diagnose, treat, cure, or prevent any disease.