It was about 7 weeks ago that I got my very first urinary tract infection (UTI).
It was no fun at all.  It hit me about 10 pm at night, I couldn't sleep because I felt like I had to pee, chronically, with no end in sight.  Ugh, it was awful.  Thankfully I didn't have any pain associated with it.  I had no pressure around my bladder and no burning when I urinated initially, but I did have an uncomfortable feeling.  That evening I started drinking lots and lots of water,  popping vitamin C and garlic, which is a natural antibiotic. I rubbed Thieves essential oil over my bladder throughout the night.   Finally, about 4 hours later the urge to go potty went away and I was able to go to sleep.
The next day the symptoms came back so I started looking into what else I could do to pull the plug on this thing.  Just to double-check that I actually had a Urinary Tract Infection, (UTI) I went to visit my Certified Nurse Midwife for a little urine test and let her pound on my kidneys.  I know that antibiotics save lives occasionally, but I had NO desire to give antibiotics a go at knocking out the gut flora that I've been working so hard to properly cultivate.  Sure enough, I tested positive for a UTI.
I'm such a stinker that I didn't even fill the prescription for the antibiotic for several days, and it took some time to get rid of the symptoms.  I finally went to pick up  the antibiotic when I felt like someone had a strangle hold on one of my kidneys.  I brought the prescription home for a just in case and it is still under my sink, knowing it is not a good idea to let a UTI get out of hand and cause major damage to kidneys and potential fatal damage to the rest of the body.
Here is what I did to turbo charge my immune immune system and support my body's natural defenses:
Diet – A proper diet when fighting a Urinary tract infection is SO important.  Never underestimate the power of a very low to no sugar (even natural sugars), and very low grain diet when trying to beat an infection such as this one.    Refrain from ice cream or any kind of sweet treats, and stay away from alcoholic drinks.  Rice may  be the best choice when choosing grains.  Keeping fruit to a minimum or none at all is also very important.   A low carb and sugar diet is a must  since these foods will feed the yeasts contributing to your infection.
Eat lots of veggies.  Onions and garlic are really great choices since they will unleash their antibiotic and healing properties.  Another good choice would be to drink a few ounces of unsweetened cranberry juice daily.  I drank several ounces of cold pressed cranberry juice a day (boy was it potent), but it really helped knock it out.
And, don't forget to keep drinking lots and lots of water.  Even up to a gallon a day can help wash that infection out of your body.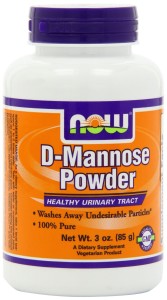 Supplements –  D-Mannose Powder is a plant sugar extracted from cranberries.  This powder is fantastic for washing the infection out of your urinary tract.  I've read that yeasts actually attach to it and wash right out of your body.  I mixed about a tablespoon in water 1-2 times a day to help heal the infection.
Garden of Life Fungal Defense, this stuff is GOLD in a bottle.  I couldn't even find it in my town so I had to order it directly from Amazon.  I took it according to the package directions.
Vitamin C – I kept popping these throughout trying to fight this infection.  Vitamin C is going to boost the immune system and help the body detox.
Herbs –  I made dandelion and nettle leaf infusions in order to help clean my system.  You can make an infusion by steeping 1/2 cup of herbs in a quart mason jar and letting it sit several hours or overnight. Sip throughout the day.  These herbs are rich in minerals (minerals are antibacterial) and it will aid in liver cleansing. (I purchase my herbs here.)
Detox Baths –   I added 3/4 of a cup of Apple Cider Vinegar to a very hot bath water whenever I felt like my kidneys were achy or when I was uncomfortable at all when I urinated.  At the peak of all these symptoms I was taking these baths daily and would sit in  the bath for as long as possible.  I got some good reading done that way.
Essential Oils –  Essential oils are an incredible tool in the old home remedy tool box.  They really should be always be kept on hand for increased support of the immune system.  I used Thieves essential oil diluted over my bladder area several times each day for immune support.  Lemongrass essential oil is known to be helpful to support healthy function of the urinary system (according to my essential oils pocket reference guide) so I used a 1:1 dilution of lemongrass and coconut oil and put it on my feet before bed, and I diffused at bedtime.  (I buy my essential oils here.)
Urinary Tract infections can be tricky boogers to ditch.  It took me several weeks to get rid of it for good.  My symptoms would go away a day or two at a time and then return.  As long as my symptoms weren't getting worse I just kept trucking along with my protocol until they were gone.
Make sure you consult your doctor if you feel at all uneasy and don't let it get out of hand.