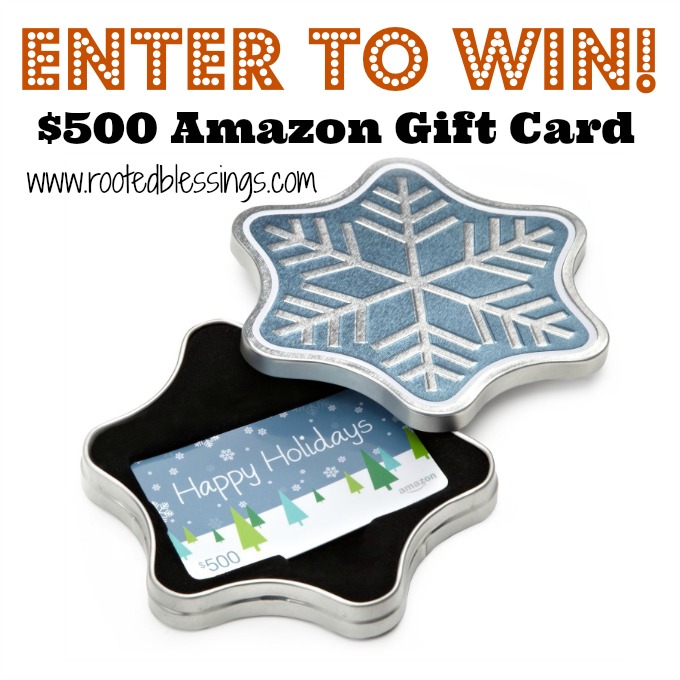 'Tis the season to give really big, right?
I can't be more excited to announce to you that I have teamed up with 10 other bloggers to provide this fabulous giveaway.  In order to celebrate the holiday season, we are giving away an Amazon gift card valued at $500.  That might change your Christmas a little bit, don't you think?  I know it would change mine.
What Would You Do With A $500 Amazon Gift Card?
If you won a $500 Amazon gift card what on earth would you do with it?  Would  you pamper yourself with a Excalibur or a Berkey.   Or, would you give gifts to friends that you never have a chance to buy for?  If I won it, I would most likely buy something practical like a 5 Gallon Bucket of Coconut Oil.   (affiliate links)  So, I'll quit jabbering and allow you to get to clickin'.  
Make sure you follow all of the directions below in order to be entered to win! 
Here is How to Enter:
1. Sign up for the Rooted Blessings Newsletter.  This newsletter is semi-weekly.  You'll often receive highlights, tips, tricks, promotions, and great health information.  I commit to  never ever EVER sell or distribute this information ever.  It is strictly for me to communicate with you on a semi-regular basis.  You will also receive information every time I have a great giveaway like this one.
Just enter your email in the link below and make sure you confirm your subscription in your email.
2. Now, click on over to Amazon and find a link to some of your most favorite things!  Tell me why you want to buy it and leave this link in the comments section.
3. Then, go crazy! You can't keep this a secret! Pin this giveaway on pinterest, tweet it on twitter, update your facebook status with it! You can use some of the links before or above the post to do this to make it easy.
4. Ok, now go crazy!  Claim your above entries and get even more via the Rafflecopter widget below.
This Rafflecopter giveaway is made possible by a partnership with 10 other bloggers.  You can earn extra entries by visiting each blog and signing up for their newsletters.  It also will show them the love of how excited you are to win an Amazon Gift Card.  Click on each blog name below to earn more entries.
Food Your Body With Thank You For
No purchase necessary.  You must be 18 to enter. The giveaway will begin at 12am on December 9th 2013  end 12 am on December 21s 2013t EST. The winner will have 48 hours to contact Rooted Blessings (rootedblessings [at] gmail [dot] com) with his/her full name, address, and phone number. By entering you are agreeing that Rooted Blessings will be held harmless if in some way this giveaway/ sweepstakes somehow negatively impacts the winner. Anyone can enter!  Void where prohibited by law.