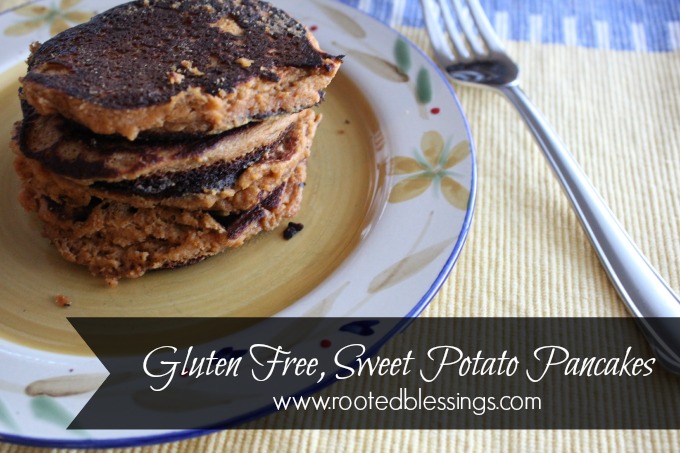 Sometimes you just need something speedy and tasty to get dinner on the table.  
These gluten-free, grain free sweet potato pancakes are going to become a new staple in my house when hubby is out-of-town.  They were super fast to make and super yummy.  I can honestly say that I didn't make enough and the kids just wanted more.
Dust them with cinnamon, slather on the butter, pour on the maple syrup and you've just about got yourself an entire meal.  Complete it with a few slices of some yummy pastured bacon or sausage and you can eat this meal for breakfast, lunch, dinner or a tasty generous snack.  I always try to keep a couple of cooked sweet potatoes in my fridge just in case I'm in need of whipping up some pancakes.
These sweet potato pancakes are great made ahead in order to save for a quick breakfast or snack later too.
Gluten Free Sweet Potato Pancakes
Ingredients:
1 Medium Sweet Potato (about 1 cup)
3 Heaping Tablespoons of Almond Flour
3 pastured eggs
2 tsp cinnamon
1/2 tsp salt (I like this brand)
1/2 tsp baking soda
1/2 tsp vanilla
Butter or coconut oil for frying
Instructions:
Mash sweet potato.  Add eggs, almond flour, cinnamon, baking soda, salt  and vanilla.  Mix well.
Heat Butter or coconut in the frying pan over medium heat.  Spoon 1/4 c of batter at a time on to the pan and fry until edges begin to brown and pancake is firm enough to flip.  Cook for a minute or two on each side.
Dust with some cinnamon, slather on some pastured butter (I like this brand) and some maple syrup (I like this brand).
Enjoy!