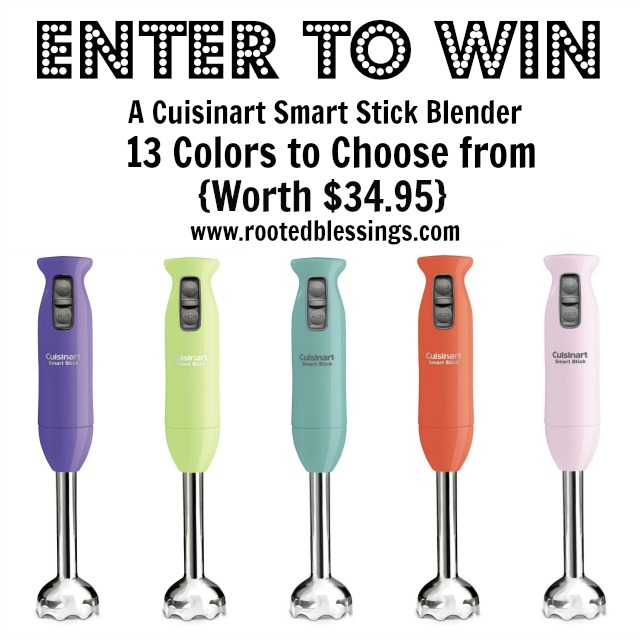 Oh, what beautiful food a hand held blender can make!  My Cuisinart Smart Stick Hand Blender has done me well.  It has been used for everything from smoothies to soups.  I just love having a kitchen tool that you can stick right in the pot, blend, detach the stick from the motor and throw it in the dishwasher.
Yes, it simplifies life.
No real food kitchen should be without one! And, we are giving one away!  
The real kicker here is that you can choose any color you wish.  Yes, you can even choose one to match your kitchen!  Whoo hoo!  There are 13 colors to choose from.  Just check them all out here. (Amazon affiliate link)
I'm giving one of these babies away to a lucky winner to say THANK YOU for making my first couple months writing this blog successful!  I really can't write this blog without you reading.  It is so excited to see you reading and engaging with what is happening here.  So, please, enter to win and carry on reading, leaving comments and engaging on the facebook community.
In order to enter this giveaway I would love for you to subscribe to my newsletter.  It helps me keep you in touch with all the great things that are going on around here.  Plus, I send out coupons for my services and other great words of advice all the time.
So, don't delay!  Enter below and share it with all of your friends!