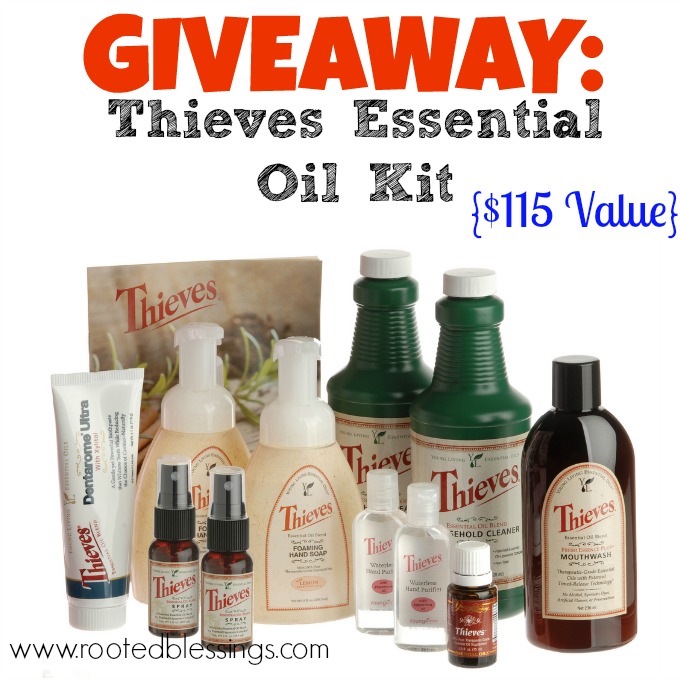 The cleanest house, hands, teeth, and children's toys you will ever have…
This stuff is AMAZING!  This stuff not only cleans stuff crazy good, but it also supports the immune system like no body's business. Oh, and did I mention it is non-toxic?
HOLLAR!!
I'm serious y'all, if you haven't begun using Thieves oil it will rock your world! I use it for my family on a very regular basis, it is an oil that I use nearly everyday.  Just try out my immune enhancing bath recipe for instance.  And, you could just make your very own spray just using the essential oil or you can buy a premade spray directly from Young Living.
I am bringing you this fantastic giveaway along with  Kelli from Happy Health Nut and Kate from Real Food RN.
Why?  Because until you try it, you are completely missing it!
So, let's talk about Young Living Essential Oils for just a little minute. Friends don't let friends buy crappy oils. Really,  Young Living really does have some of the highest quality oils on the market.  I just can't stress enough how important it is to buy high quality essential oils. Please only buy quality oils!
Essential Oils are very potent extracts of the plant.  Don't use anything that doesn't fully disclose where they get their plant matter and if it is organic.  You really don't want those concentrated toxins on your body.  With essential oils you will get what you pay for.  Trust me! There are safety issues when using oils that are inorganic.
So, you want to get started in essential oils? 
There is not a better time to get started than now.  Click on over and read about why I think you should get involved in the oil revolution here.  
If you sign up for a starter kit under my sponsorship, I offer an exclusive online learning community where you can begin to use oils to take your family's health by the reigns.  Yup, you can use oils to aid in healing for just about any health struggle.  You won't be left alone in the dust, you can expect my support to give you the resources that you need to be an oiler pro.
And, from now until January 31st if you sign up for a Premium Starter Kit I'm giving away a free copy of "Quick Reference Guide for Using Essential Oils" while supplies last, so act fast! (Offer good for US residents only, offer ends January 31st.)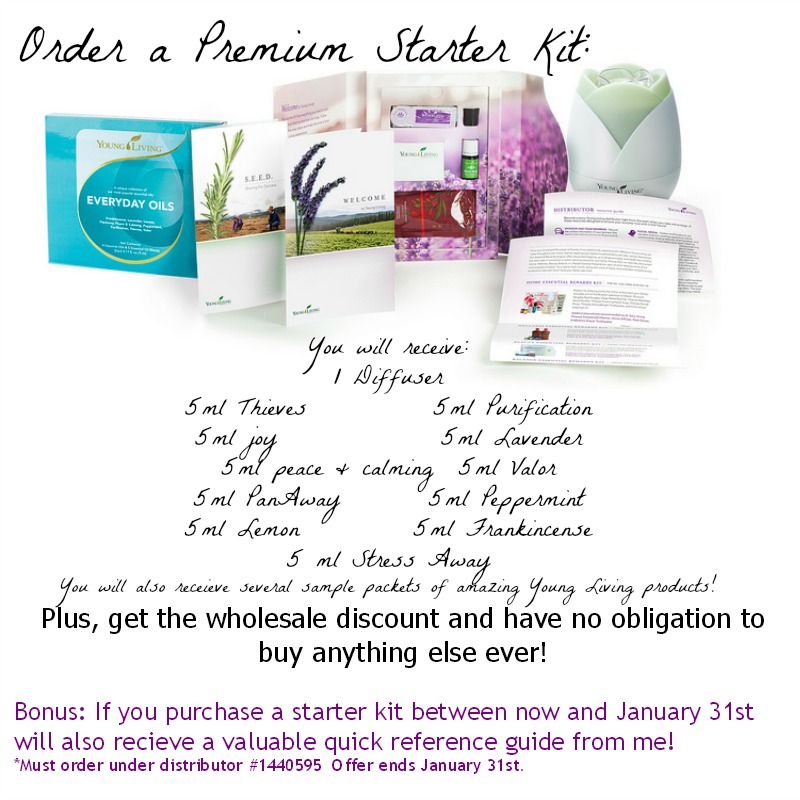 Now, to hear about the goods pictured on top.
The Giveaway:
The winner of this fantastic giveaway will win
2 – Thieves Household Cleaner
1 – 15ml Thieves Essential Oil Blend
1 – Thieves Dentarome Ultra Toothpaste
1 – Thieves Fresh Essence Plus Mouthwash
2 – Thieves Spray
2 – Thieves Hand Purifier
2 – Thieves Foaming Hand Soap
This is a $115 value!  
Can anyone say AWESOME?
Here's how to enter: 
There is absolutely no purchase necessary to enter the contest!  Just enter by the instructions below.
1. Go on and read my page about Young Living Oils and how to sign up (and the cool stuff you get if you do).
2.  Sign up for the Rooted Blessings Newsletter:

3.  Follow me on Pinterest.
4. Like Rooted Blessings on facebook.
4. Now, go get your entries.  All entries are earned via the widget.  Don't forget to stop by Happy Health Nut and Real Food RN to earn extra entries.