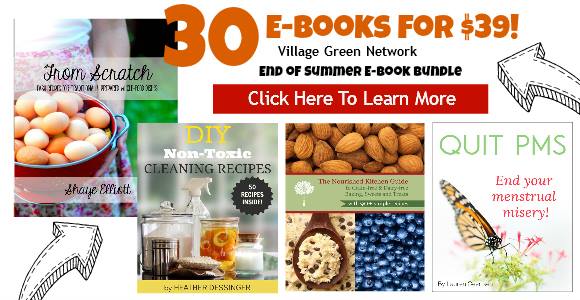 If you have been on the fence this week purchasing this awesome ebook bundle now is your time!  The sale has been extended just 1 more day and is such an amazing deal. 
Village Green Network's end of the summer ebook sale will give you 30 ebooks that are less than $1.50 a piece.  This will be great reading for the rest of the year!  You can use all these books for references that you will return to time and time again or order to aid in your healthy living journey.
You will receive brand new books such as
Processed Free by Robin Konie of Thank Your Body (NEW)
Have Your Cake & Lose Weight, Too! by DaNelle Wolford of Weed 'Em and Reap (NEW)
Real Food Survival Guide for Busy Moms by Lindsey Gremont of Homemade Mommy (NEW)
DIY Non-Toxic Cleaning by Heather Dessinger, author of Mommypotamus (NEW)
Feed Your Fertility by Emily Bartlett of Holistic Squid and Laura Erlich (NEW)
Love Your Body by Elizabeth Walling of The Nourished Life (NEW)
Simply Salads by Season by Kristen Michaelis of Food Renegade (NEW)
The Sleep Solution: End Your Insomnia Naturally by Emily Benfit of Butter Believer (NEW)
Quit PMS by Lauren Geertsen of Empowered Sustenance (NEW)
Sustainability Starts at Home by Dawn Gifford of Small Footprint Family (NEW)
Real Fit At Every Age by Julie de Lagarde of Real Fit Mama (NEW)
Plus, a ton of other great titles!  Click here to see what else you can get for this super great price!
This bundle is designed to give you lots of great information to help keep you growing on your healthy living  lifestyle.