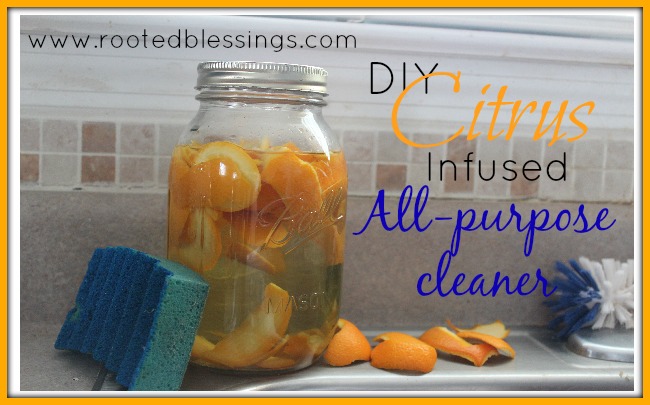 Spring is in the air…
Spring is my most favorite time of year.  As I sit here writing this post my windows are wide open, and I have the most urgent desire to deep clean my house from top to bottom!  There is just something about the smell and cleaning power of citrus that makes everything smell so fresh an clean.  
I've mentioned before that I have always loved a spic and span clean home.  My mom would always keep our home so clean growing up, and there was something about the lines the vacuum cleaner makes in the carpet that  made me feel at peace.  I used to keep mine rather clean until I had three small children and started working from home, unfortunately my home isn't as clean now as I like it to be.
Oh well, I wanted to enjoy my littles while they are young and with working from home comes priorities and my priorities haven't been keeping my home immaculate like it used to be.   Even though my home may not be immaculate any longer ,I do like to keep it a natural, non-toxic type of clean.
Did you know?
Citrus is rich in antioxidants and supports the immune system.  Citrus essential oils bring about  a sense of well-being, creativity, and feelings of joy.  Citrus really does brighten your mood as you clean and have an effect on the health of your whole body.
If you have been reading my blog for very long you know that I am absolutely obsessed with essential oils. They have so many fantastic uses to increase health, vitality, mood, and more.  Citrus essential oils are contained inside the peels of the citrus fruit.  In order to extract the oil the fruit peels are cold pressed and the potent essential oils extract is removed.
It may be a little difficult to extract citrus essential oils into a bottle for drop by drop use at home, but you can make great use of your fruit peels and not waste the incredible essential oils in them by soaking them in white vinegar.
Here's how you can easily make DIY Citrus Infused All-Purpose Cleaner:
1. Place citrus peels from as many oranges as you like on the bottom of a quart sized mason jar. Having at least 2 is a great place to start.  The more peels you use the stronger your extract will be, the more highly concentrated it will be, and the more cleaning power it will possess.
2. Fill the mason jar until about an inch from the top with white vinegar.
3. Allow peels to sit in the vinegar in dark place, such as a cabinet for a week or two.  The longer they sit the more the vinegar will turn a brownish orange color.
4. When you are ready, strain the orange peels from the jar, dilute your solution by 50% with water and transfer to a spray bottle.
If you like, you can add 4-6 drops of orange essential oil to your plain white vinegar water and get similar result.  However, I really love being able to reuse my orange peels in order to clean my home.   Plus, the smell is fantastic!
If you do use the orange essential oils in your spray bottle make sure you use a glass spray bottle since citrus oils digest chemicals such as those in plastic.  If you are using a vinegar infusion I think it is fine to use your plastic spray bottle.  The extract doesn't seem to be as quite as strong as if you use an cold pressed extracted version of essential oils.

Do you want more non-toxic cleaning recipes?  Click HERE to purchase a copy of DIY Non-Toxic Cleaning recipes.
Please help me spread the word about DIY Citrus Infusion All-Purpose Cleaner and click HERE to pin the image below.