Going grain-free isn't for everyone, but it gave Carrie Vitt her life back.
I was first drawn to Carrie's story when I heard that she had been diagnosed with Hashimoto's Thyroiditis and got her life back through changing her diet.  As a Nutritional Therapy Practitioner, I hear stories like this on a regular basis and it always makes me SO excited for these individuals and their families.  There is so much hope for the sick through a change in diet.
Can I get an Amen?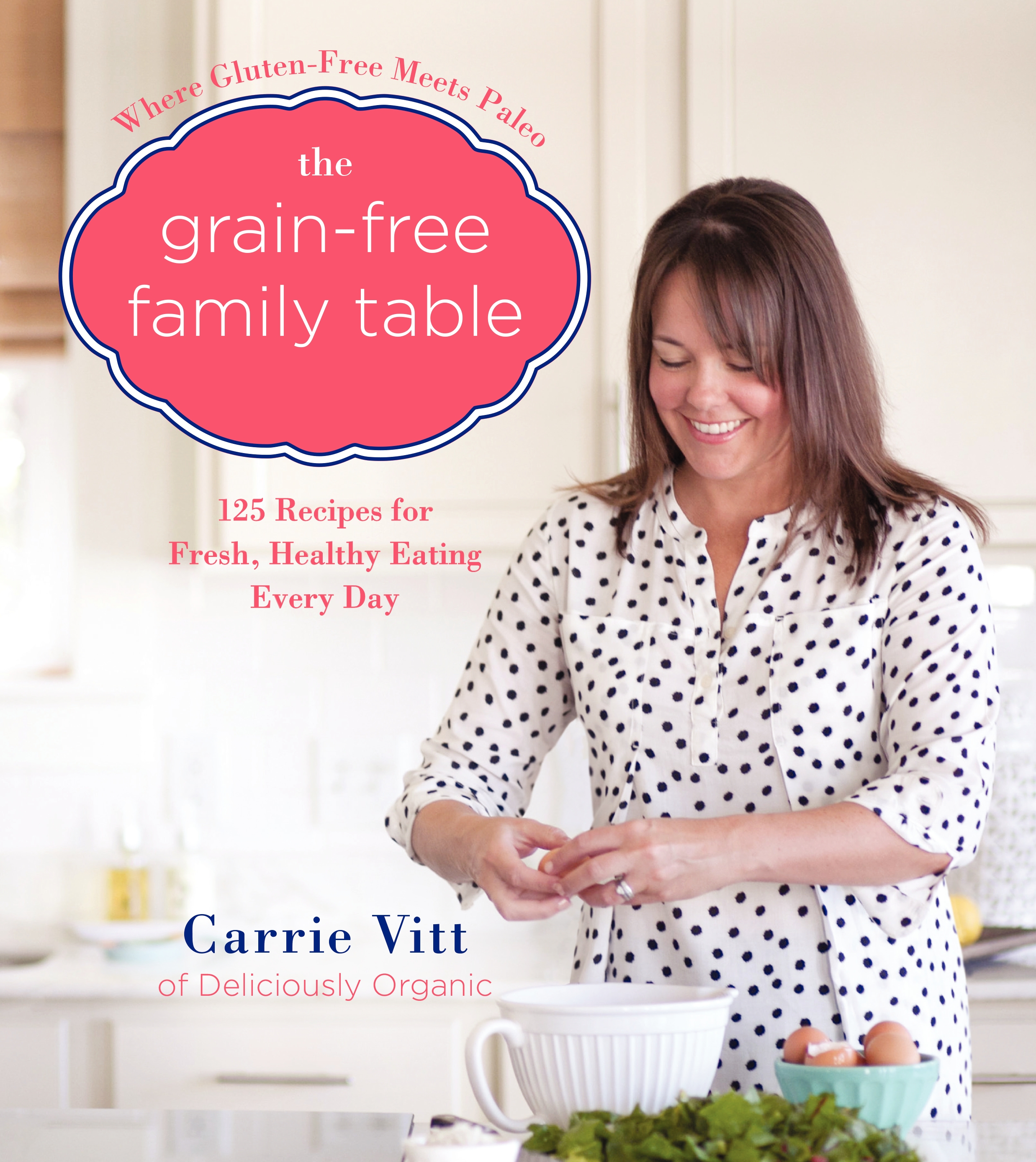 The reality of it though is that getting one's life back isn't an easy journey.  Since each person is created so differently, the path to healing will be different for just about everyone.  Some people can handle ancient grains, although I don't recommend standard wheat for anyone.  But like Carrie, some people do so much better on no grains at all.  You may have to experiment on what works well for you.
I was given a copy of Carrie's book, The Grain-Free Family Table to review for my blog.  Quite honestly, this book is one of the most beautiful cookbooks I have on my bookshelf.  As a visual learner, I just adore the books with beautiful photos of some of the most tasty food you have ever eaten.
Whether you decide to change your diet to be completely grain-free or not, The Grain-Free Family Table is loaded with nourishing foods and fantastic grain-free recipes. These recipes will nourish you and your family and would be a wonderful addition to your stash of nourishing cookbooks.  Carrie also includes her inspiring story and lots of great information on healthy foods to add to your diet, as well as some foods to subtract.
Education is key and cookbooks that help individuals learn about a healthy diet are just as important as nourishing and healthy recipes.
Some of my favorite recipes in her cookbook include: 
Cinnamon Rolls
Creamy Chicken Vegetable and Tomato Soup
Pork Carnitas
Beef Taco Bowl
Lemon Poppy See Cake with Honey-Coconut Glaze
And, I LOVE the kid friendly section too!
Today, I want to share with you an another amazing recipe from The Grain-Free Family Table, Creamy Chicken and Mushroom Pot Pie.  It is so yummy!
You will just love it!  Click HERE to purchase The Grain-free Family Table from Amazon.

Creamy Chicken and Mushroom Pot Pie
Pot pie is comfort and warmth; it just feels like home. A simple filling of chicken, mushrooms, onions, and cream is topped with buttery biscuits. My grain-free version is less complicated than many grain-filled recipes I've made in the past, and every bit as pleasing.
SERVES 6
PREPARATION TIME: About 1 hour and 40 minutes
FILLING
3 bone-in, skin-on chicken breasts
11⁄2 teaspoons Celtic sea salt, plus more for the chicken
Freshly ground black pepper
2 tablespoons extra-virgin olive oil
1 yellow onion, minced
5 ounces white mushrooms, sliced
2 garlic cloves, minced
1 teaspoon dried thyme
1 cup heavy cream
BISCUITS
21⁄2 cups almond flour
1 tablespoon coconut flour
1⁄2 teaspoon Celtic sea salt
1⁄2 teaspoon baking soda
2 teaspoons Grain-Free Baking Powder (page 000)
5 tablespoons cold unsalted butter, cut into tablespoons
1⁄4 cup coconut milk
1. Preheat the oven to 375°F and adjust the rack to the middle position. Season the chicken with salt and pepper to taste and roast for 35 to 40 minutes, or until cooked through. Set the chicken aside to cool for 10 minutes, then shred the meat (discard the skin and bones). Reduce the heat to 350°F.
2. Heat the olive oil in a large skillet over medium heat. Add the onion and mushrooms and sauté until the mushrooms are soft and have released their juices, 10 to 12 minutes. Move the vegetables to the sides of the pan and add the garlic and thyme in the center of the pan. Stir the garlic and thyme until they are strongly fragrant, about 1 minute, then stir them into the mushroom mixture. Turn off the heat. Mix in the cream, chicken, and 1½ teaspoons salt and pour the mixture into an 8 x 8-inch baking dish.
3. To make the biscuit topping, place the almond flour, coconut flour, salt, baking soda, and baking powder in the bowl of a food processor. Pulse 2 to 3 times to combine. Add the butter and pulse for eight 1-second pulses. Pour in the coconut milk and ¼ cup cold water and pulse until the mixture comes together and forms a dough. (If the dough is too wet, add a tablespoon or two of almond flour. If it's too dry, add a teaspoon or two of water.) Use a 2-inch cookie scoop to scoop out dough balls. Place them on the top of the chicken filling, lining up the balls in a symmetrical pattern. Bake for 25 to 30 minutes, until the filling is bubbly and the biscuits are golden brown on top. Cool for 10 minutes before serving.
PALEO/DAIRY-FREE ADAPTATION: Use 1 cup cashew milk in place of the heavy cream for the filling. Use ¼ cup lard or tallow for the butter in the biscuits.
Here's to a healthy, happy 2015!
Click HERE to Pin it and save it for later!