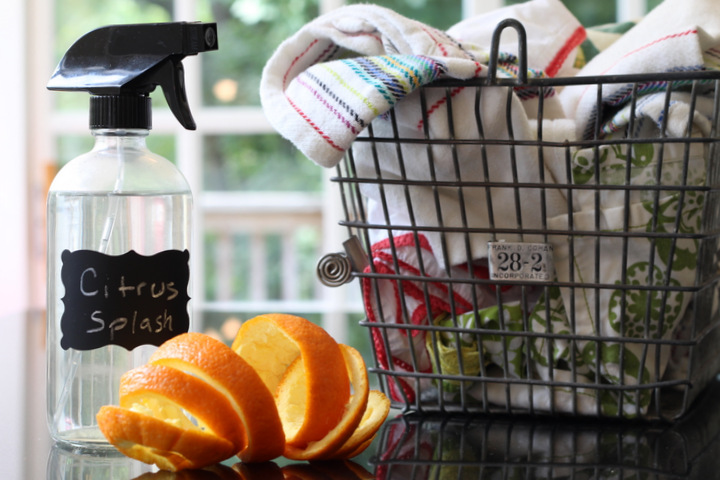 The smell of citrus reminds me of spring…
When I close my eyes and I flash back to being a little one at home I can remember the very tidy house my mom kept and the whole thing smelling like Pledge on a regular basis.  I wouldn't dare clean with pledge these days, but that citrus lemon smell is imprinted in my mind and nostrils even if it was a fake lemon citrus smell.  I do love the smell of citrus when it comes to having a clean home.
As this Citrus Splash All Purpose Cleaner reminded me of my childhood, I clicked on over to find out what ingredients are in Pledge.  They seem to very thoroughly list their ingredients EXCEPT they do not list what they add for fragrance.  Actually, they tell you that if you want to know anything about the fragrance that you need to give them a call. And, how many people do you think are going to do that?  I highly doubt that Pledge has any toxins contained in it, even if it doesn't contained in anything toxic listed by the US National Toxicology Program.  
Even though they make you feel all warm and fuzzy by sending you to the Environmental Working Groups Cosmetic Database if you look up ingredient by ingredient many ingredients have higher and higher ratings on the toxic scale.  And, nearly all of the ingredients contained here say that the research on the ingredient is limited or no data at all.  Let's be honest, limited information doesn't make me feel safe at all.
My second observation is that I can barely pronounce a single ingredient on that list.  That doesn't make me feel safe using these products around my children.  Not to mention that the warning labels reminds me to keep them out of reach of children.
I think I'd rather my children be able to help with cleaning around the house, and step on the newly cleaned floors with bare feet since liquids absorb into the body through the feet quickly.  If you are using essential oils the feet are one of the very best places to apply them.
I'm not going to spend a lot of time going over all the ingredients in Pledge.  They make it very clear on their website that there are no carcinogens or toxins that are listed by the US National Toxicology Program.  *eye roll*  But, you look at the ingredients, do a little research and decide for yourself.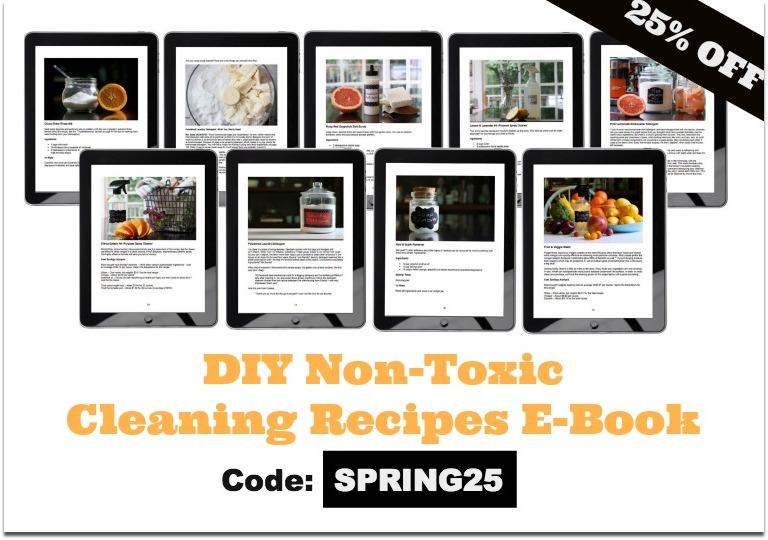 I have decided that for the safety of my family I would much rather stick to super easy DIY household cleaners that I know are non-toxic because I made them! 
Here is Why I Recommend Making Your Own Cleaning Supplies..
You will know what is in them
They will be safe for your family
They will save you so much money!  (This is one of my favorite reasons.)
They are very easy.
There is a good chance your house will be cleaner than if you use store-bought cleaning products.
Don't you just love it that you can have all the things above by making just a few simple recipes of your own from Heather's book DIY Non-Toxic Cleaning Recipes?  And, the great thing is that there are no shortage of recipes in this ebook.  There are 50 recipes for the cleanest, healthiest home on the block.
DIY Citrus Splash All Purpose Cleaner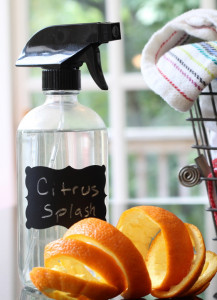 Orange essential oil is known for lifting moods and reducing stress.  Does your store-bought household cleaner make those promises?  I highly doubt it.
And, the vinegar in this recipe has also been known to be effective against bacteria, viruses, and mold.  Whoo hoo! Even E.Coli and the Flu Virus.   So bring the Citrus Splash all Purpose Cleaner on.
According to Mommypotamus here is the cost savings analysis and the citrus splash all-purpose cleaning recipe…
Store-bought "eco-friendly" cleaners – which often contain questionable ingredients – cost an average of $0.12 per ounce.
Here's the breakdown for this recipe:
Water – Cost varies, but roughly $0.01 for the total recipe
Vinegar – About $0.05 per ounce
Essential oil – Prices will vary depending on brand and type, but mine came to about $0.01 total for the recipe
Total store bought cost – About $3.84 for 32 ounces
Total homemade cost – About $1.62 for 32 ounces
That is a savings of 50% with no questionable ingredients. 
Ingredients:
1 1⁄2 cups water
1 cup white vinegar or citrus infused white vinegar
20-40 drops citrus essential oil (sweet orange, lemon, lime or grapefruit) – Check out the kind I use
To Make: Combine all ingredients in spray bottle.
To Use: Shake before using, then spray on surface and wipe clean with a soft cloth.
Storage: Store away from heat and sunlight. Because essential oils oxidize when exposed to heat and sunlight it is best to keep them in dark glass bottles or a dark cabinet.
Do You Want More Non-Toxic Cleaning Recipes? 
DIY Non-Toxic Cleaning Recipes is a 167 page reference guide that will help you make your own cleaning products, such as:
Pink Lemonade Dishwasher Detergent
Powdered Laundry Detergent
Glass Cleaner
Goo and Gunk Remover
Fruit and Veggie Wash
Liquid Dish Soap
Ruby Red Grapefruit Soft Scrub
Oven Cleaner
Tub and Tile Cleaner
Lemon and Rosemary Dusting Spray
Leather Conditioner
Stainless Steel Cleaner
From now through March 31st you can save 25% with coupon code SPRING25 at checkout.