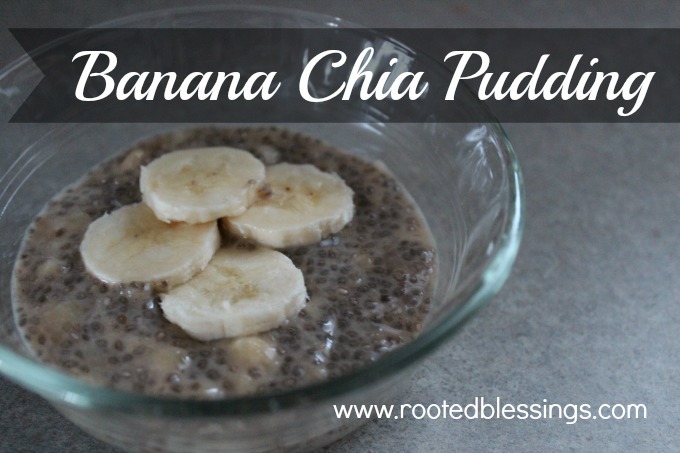 Sometimes it is nice to have a sweet healthy, easy treat…
I really love it when I'm inspired in my kitchen to try a new recipe.  I had tried a chia pudding a few months back and though it would be fun to make a recipe of my own.  This month has been an interesting one food-wise for our family.
Somehow we ran out of money in our food budget halfway through the month. High winter prices, I guess. I still can't figure out exactly where all the money went.  And, I've been scrapping by ever since.  The month ends in 5 days and I still have $11 left.  I have been pulling out all the stops and using everything that we have in our freezer and pantry.  I needed to find a recipe that was both frugal, easy, tasty and healthy. 
Although high in sugars, bananas are one of the most inexpensive fruits that you can buy.  They shouldn't be eaten in large quantities on a regular basis because they can make it difficult for a for a stable blood sugar, but they can be fantastic for treats and sweeteners.
Saturday night, I was thinking through what to feed the family for breakfast in order to get out of the door to church on Sunday morning. I wanted it to be quick, easy and all the ingredients I had on hand.  So, I just whipped up this tasty Banana Chia Pudding and stuck it in the fridge so it was all ready to be eaten the next morning before church, easy peasy.
Chia seeds are fantastic addition to your diet because they are known to do all kinds of wonderful things such as boosting energy, stabilizing blood sugar, aiding digestion, and even lowering cholesterol.  They also contain antioxidants and fiber, these tiny little seeds can be considered and all around superfood.
This recipe is so simple and can be enjoyed for breakfast or an afternoon snack.  It will put a little spring in your set and help satiate your appetite.
Banana Chia Pudding Recipe
2 bananas
4 T Chia Seeds
2 cups of raw milk (or you can choose your favorite dairy free milk)
1/2 tsp vanilla
1 tsp "Ceylon cinnamon" or real cinnamon
Place bananas, milk, vanilla, and cinnamon in a blender.  Blend well.  Add chia seeds and combine by hand.  Place the ingredients in a bowl in the refrigerator, leave for 2 hours or overnight.