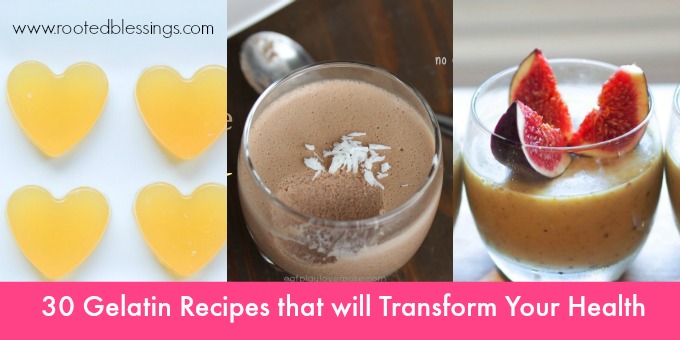 Gut problems are one of the foundational causes of nearly all of today's health problems.  There is clearly an epidemic  of autoimmune conditions and other digestive disorders that plague the United States today.  Autoimmune conditions begin with a leaky gut and American's have leaky guts far and wide.  No wonder autoimmune conditions are getting diagnosed at light speeds.
So, what can you do to avoid a diagnosis of an autoimmune condition? How can you protect your family from the discomfort of havoc being reaped on the body from an autoimmune attack?
The first place to start is to heal your gut.  In order to heal your gut you must first remove any foods that cause you an allergic response.  One of the ways you can find out if foods are causing an allergic response is to take a pulse allergy test.  This test is easy enough to do it at home.
Another method of attack on the disease that is plaguing your body is to begin eating gelatin daily.  Gelatin is an amazing super food that really can transform your health.  The Gelatin Secret: The Surprising Superfood that Transforms Your Health and Beauty has become one of my favorite ebooks.  No diet should be without this fantastic superfood.
I encourage every single one of my clients to eat gelatin.  The health benefits are amazing.
Gelatin is a natural thickener that comes from the bones and hides of animals.
What are the health benefits of gelatin?
Gelatin can help you lose weight
Give you beautiful hair, nails and skin
Help you fight tooth decay
Help you fight autoimmune conditions and/or digestive problems
Heal joints
It can also reduce or get rid of wrinkles or stretch marks
fantastic source of protein
Gelatin has been known to do all these things and it is a safe method for healing the body.
30 Recipes that Will Transform Your Health 
Power Oatmeal from How We Flourish
Egg McMuffins From Paleo Gone Sassy
Homemade Fruit Snacks from Kulua Mama
Fruit and Veggie Gummy Snacks from Live Simply
Healing Herbal Team Gummies from Cinnamon Eats
Pumpkin Pie Gummies from Raia's Recipes
Easy Strawberry Fruit Snacks from Raia's Recipes
Cold and Flu Buster Gummies from Don't Mess with Mama
Homemade Candy Gummies from Whole New Mom
Stained Glass Window Jello from Keeper of the Kitchen
Homemade Jello from Oh Lardy
Paleo Horchata Jello from Cinnamon Eats
Layered Gelatin dessert from Real Food RN
Almond Gelatin from The Real Food Guide
Nettle Gelatin from It Takes Time
Whipped Coconut Pudding from Whole New Mom
Chocolate Sweet Potato Pie with Strawberry Gelle from Red and Honey
No Bake Coconut Macaroons  from Whole New Mom
Chocolate Ganache Pie from Just Enjoy Food
Dark Chocolate Peppermint Cups from Just Enjoy Food
No Bake Key Lime Pie Shooters from Just Enjoy Food
Pistachio Fig Panna Cotta from Cinnamon Eats
Paleo Turkish Delight Panna Cotta from Cinnamon Eats
Paleo Peach Cobler from Paleo Gone Sassy
Coconut Berry Smoothie From Divine Health from the Inside Out
Citrus Coconut Panna Cotta from Whole New Mom
Coconut Chocolate Mousse from Eat Play Love
Homemade Marshmallows from Whole New Mom
Chocolate Almond Chip Coconut Milk Ice Cream from Whole New Mom
Peach Tea and Banana Iced Latte from Raia's Recipes
What to know more about how this fantastic super food can change your health?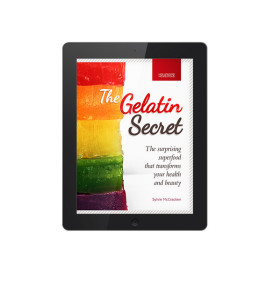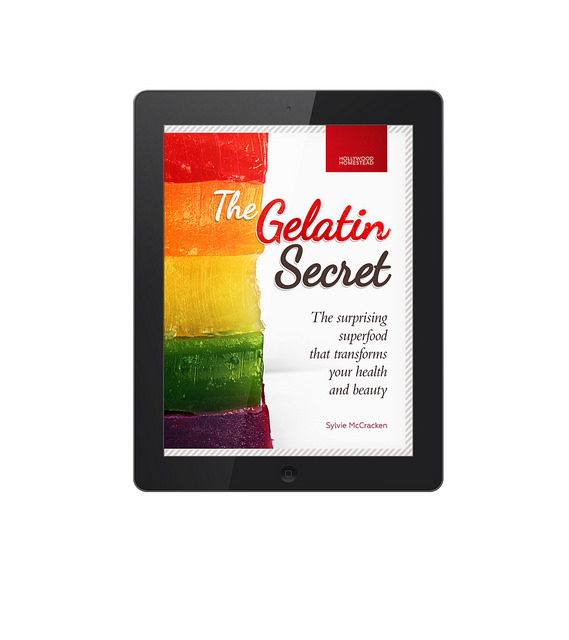 Make sure you grab a copy of the Gelatin Secret by Sylvie from Hollywood Homestead.  In it you will find real food stories, detailed information about how gelatin will heal your body, plus 45 fantastic sweet and savory recipes that will making including this super food in your diet daily easy peasy.
Love these recipes?  Click here to pin this post.