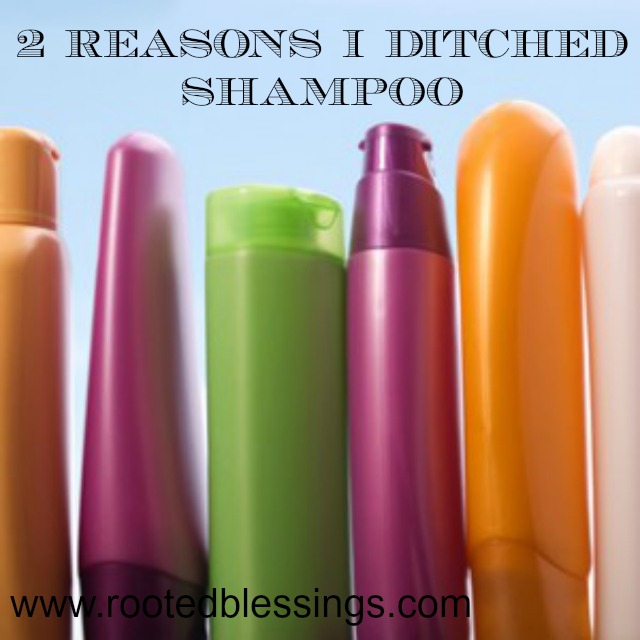 Almost a year ago today two big events changed my life, my four-month old baby girl had a major surgery on her head – you can read about it here, and I completely ditched shampoo.  I did this the exact same day, and it has been almost a year.  I've made a few tweaks to what has worked for me this past year, but I have not bottle a single bottle of shampoo for a year. I don't even buy it for hubby, ha!  If he wants any he picks it up from hotel rooms on his business travels.  He is bald anyway.  Who knew bald men needed shampoo?
Yep, after 32 years of my life using shampoo I was finally done with it.  I ditched it for two major reasons.
1. All the Chemicals –
For example Pantene Pro-V  (referral, not suggesting you buy though) via amazon.com:

Ingredients
Water, Sodium Lauryl Sulfate, Sodium Laureth Sulfate, Sodium Chloride, Glycol Distearate, Cocamidopropyl Betaine, Dimethicone, Citric Acid, Cocamide MEA, Sodium Citrate, Fragrance, Sodium Xylenesulfonate, Sodium Benzoate, Guar Hydroxypropyltrimonium Chloride, Tetrasodium EDTA, Panthenol, Panthenyl Ethyl Ether, Methylchloroisothiazolinone, Methylisothiazolinone
Can you even pronounce most of those ingredients?   I'm not going to go into extended debate about these ingredients, but let's just say that they aren't what nature intended, ok?  And, whatever you decided to put on your head is going to get absorbed by your skin right into your body.  Since the skin acts as a sponge I only desire to put on my body what nourishes it rather than what science has deemed "safe".  If you follow the news enough, we all know how that turns out on a regular basis.  I think I'd rather stick to what God has already deemed as nourishing and safe for centuries, than the scientists employed by shampoo companies.  That's why I am crazy over this company. 
2. The Money – We are on a pretty tight budget and I'm a wellness educator and a foodie so it is a priority for our family to purchase food from quality sources, so I won't be spending our precious pennies on high-priced organic and natural care products.  I'm not going to touch with ten foot poll a product with words I can't pronounce or understand without extensive research, if there is an alternative out there that I know is easy and nourishing. And, ditching shampoo is way easier than you might think.
Do you want to ditch shampoo too?  By ditching shampoo you will stay away from potentially toxic and cancer causing ingredients as save tons of money at the same time.  
Now, I have found that many people feel overwhelmed with how to start.  They don't want to walk around with greasy hair and they really want to feel clean and look their best.
Let me just share with you one fabulous ebook that can help you with that and is on sale for just a few more days!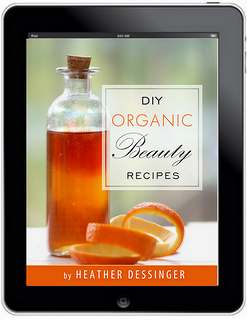 DIY Organic Beauty Recipes is a best seller because it contains 50+ easy, non-toxic and just plain amazing beauty recipes.  Everything from shampoo to deodorant that can help you move towards creating the healthy and non-toxic lifestyle that you desire.
If you are ready to ditch shampoo too, this book will help. Right now, save 25% by using code save25 at checkout.    Click here to order now!